Tawa Paneer Tikka Recipe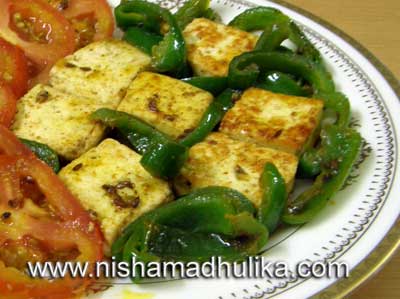 What do you make when you feel like having something special for dinner? Personally i like Paneer Tikka very much.
Instead of preparing it in a Tandoor i find it more easy to cook it directly on a Tawa(flat pan). So lets prepare Paneer Tikka on a Tawa.
- Ingredients for Tawa paneer Tikka
Paneer - 500 grams
Curd - 100 grams(1 small bowl)
Salt - add to taste (1/2 tsp)
Black pepper - 1/2 tsp
Butter/Ghee - 2 tbsp
Jeera(cumin) powder - 1 tsp
Ginger - 1 inch long (make a paste)
Capsicum - 2
Tomatoes - 2 to 3
Chaat masala - 1 to 1 1/2 tsp
Red chilli powder(if you want) - less than 1/4 tsp
Green coriander(dhaniya) - 1 tbsp (finely chopped)
Lemon - 1(cut into 4 pieces)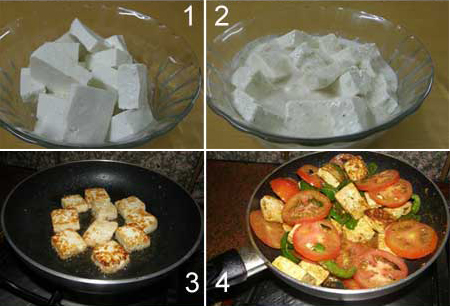 - How to make Tawa Paneer Tikka
Cut Paneer into big square pieces.
Beat the curd then add salt, black pepper and 1/2 ginger paste to it. Put the pieces of Paneer in the curd, mix well and leave the Paneer covered for 30 minutes.
Take pot the Paneer pieces from the curd, place them on a plate and keep them in the fridge for 1-2 hours.
Wash capsicums, remove its seeds and cut into long strips. Wash tomatoes and cut them into thin round slices.
Put butter on a non stick pan or Tawa(flat pan) and heat. Put 6-7 Paneer pieces in the pan and fry till both sides turn light brown then take them out. Fry all Paneer pieces in this manner and keep them on a plate.
Lower the flame, to the left over butter in the pan add Jeera powder, ginger paste and stir with a spoon. Add capsicum to the spices and cook for 1 minute as you stir regularly. Now put in the fried Paneer pieces, tomatoes, Chaat masala, red chilli powder and mix properly. Stir the ingredients continuously for 1 or 1/2 minute.
Panner Tikka is ready. Garnish with green coriander and lemon then serve.
Serves - 4
Cooking time - 20 minutes
Tawa Paneer Tikka Recipe video

Tags
Categories
Tawa Paneer Tikka Recipe
Nisha Madhulika
Rating:

5.00

out of

5