Moong Dal Kachori with Special 5 Tips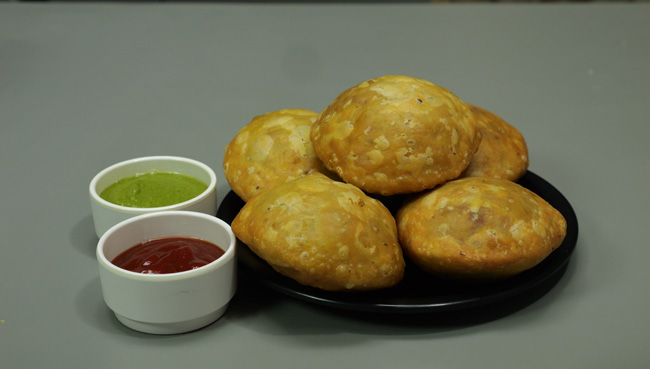 Today we are going to make Moong Dal Crispy kachori. It is very easy to make them and they are ready in a jiffy. You will find its taste very amazing. You can eat these kachoris by keeping them for 7 days. So you too make crispy moong dal kachori with this easy recipe and enjoy their taste with your family.
Ingredients for Moong Dal Kachori
Refined Flour - 2 cups (260 grams)
Salt - 1/2 tsp
Carom Seeds - 1/2 tsp
Ghee - 1/4 cup (50 grams)
For Stuffing
Moong Dal - 1/2 cup (100 grams)
Oil - 3 tbsp
Cumin Seeds - 1/2 tsp
Fennel Seeds - 1 tsp, coarsely ground
Coriander Powder - 1 tsp
Asafoetida - 1 pinch
Turmeric Powder - 1/4 tsp
Gram Flour - 1/4 cup
Green Chilli - 1 tsp, finely chopped
Ginger - 1 tsp, grated
Red Chilli Powder - 1.5 tsp
Dry Mango Powder - 1/2 tsp
Dry Fenugreek Leaves - 1 tsp
Garam Masala - 1/4 tsp
Salt - 1/2 tsp
Baking Soda - 1/8 tsp
Process of making the Dough
Put 2 cups of all purpose flour, 1/2 tsp of salt, 1/2 tsp of carom seeds (crushed) and 1/4 cup of ghee in a bowl. Mix them well and knead soft dough by adding little by little water. Cover them and keep them for 15-20 minutes.
Process of making Stuffing
Wash and soak 1/2 cup of moong dal thoroughly for 2 hours. When the time is up, put the soaked lentils in the mixer jar after removing the water. Grind it coarsely without adding water. Now put 3 tbsp of oil in the pan and heat it.
In hot oil, add 1/2 tsp of cumin, 1 tsp of coarsely ground fennel, 1 tsp of coriander powder, 1 pinch asafoetida, 1/4 tsp of turmeric powder, 1/4 cup of gram flour, 1 tsp of finely chopped green chilli and 1 tsp of grated ginger. Roast them for 3-4 minutes on low-medium flame.
After 4 minutes, reduce the flame to low and add ground lentils, 1.5 tsp of red chilli, 1/2 tsp of dry mango powder, 1 tsp of kasoori fenugreek (crushed), 1/4 tsp of garam masala, 1/2 tsp of salt and 1/8 tsp of baking soda. Mix them well and fry till they become dry. Then take it out and cool it. In this way the stuffing will be ready.
Process of making the Kachori
Mash the dough a little and break its balls and keep them covered. Now make small balls of stuffing. Take a ball and press it into a round shape and give it the shape of a bowl. Put a stuffing ball in it and close it. Then increase it by pressing lightly with your hand. Similarly, fill the rest as well.
Now heat oil in the pan, the oil should be less hot and the flame should be low. Fry some kachoris in hot oil, let them fry for 4-5 minutes. When the kachoris float on top, turn up the flame to medium-high and flip and fry them till they turn golden brown then take them out.
Lower the temperature of the oil before adding the kachoris for the second time. Then fry them in the same way and take them out. In this way crispy moong dal kachoris will be ready. Serve them and enjoy their taste.
Suggestions
The dough has to be kneaded soft.
Do not add water at all while grinding lentils.
While making the stuffing, keep the flame low-medium. Gram flour must be added to it, it removes the moisture and increases the shelf life of Kachori.
Fill the kachoris and close it well and press it with a light hand.
They have to be fried in very little hot oil and the flame should also be low.
Moong Dal Kachori with Special 5 Tips

Tags
Categories
Moong Dal Kachori with Special 5 Tips
Nisha Madhulika
Rating:

5.00

out of

5