Quick n Crispy Rice Dosa Recipe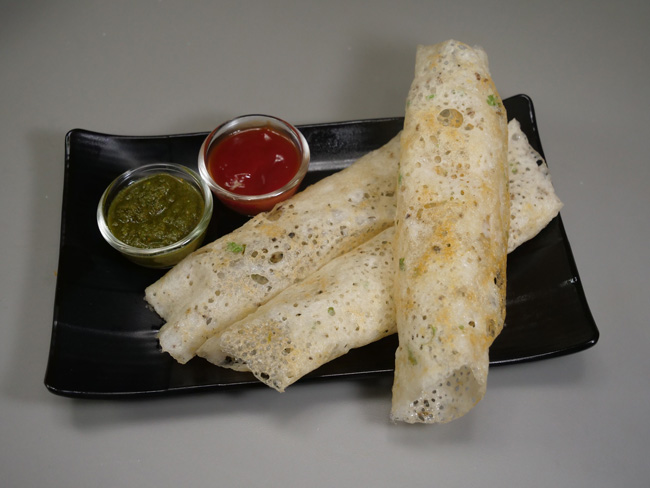 Today we are going to make crispy rice dosa for breakfast. We will make these without eno, baking soda or curd. It is very easy to make them and they are ready in a jiffy. Their taste is very amazing, if you eat this crunchy dosa once, you will like to eat it again and again. So make this delicious rice crunchy dosa and enjoy the taste with your family.
Ingredients for Chawal Ka Dosa
Raw Rice - 1 cup, soaked
Salt - 1 tsp
Cumin Seeds - 1 tsp
Green Chilli - Ginger Paste - 1 tsp
Black Pepper - 1/2 tsp, crushed
Coriander Leaves - 1-2 tbsp, finely chopped
Process of making the Batter
Wash 1 cup of rice thoroughly and soak it in water for 3-4 hours. After the time is up, remove the water and put the rice in the mixer. Also, add 1/4 cup of water and grind them finely. Then take them out in a bowl, add 1.25 cups of water and mix them well.
When mixed, add 1 tsp of salt, 1 tsp of cumin seeds, 1 tsp of ginger-green chilli paste, 1/2 tsp of crushed black pepper and 1-2 tbsp of finely chopped coriander leaves. Mix them well. Keep the batter for 10 minutes.
Process of making Rice Dosa
Heat the pan well and spread oil on it. Then spread the batter on it and pour some oil on the corners. Now cook the dosa on medium-high flame till it turns light golden from the bottom. After roasting, take it off and make the second dosa in the same way.
If some batter remains on the pan, then pour some drops of water and wipe it with a cloth. Then heat the tawa again and spread oil and spread the dosa. In this way the crispy rice dosa will be ready. Serve them with peanut chutney, green chutney or tomato sauce and enjoy their taste.
Suggestions
Add less water while grinding rice, otherwise it will not grind finely.
Heat the tawa well and spread the dosa.
Make the batter thin.
Quick n Crispy Rice Dosa Recipe

Tags
Categories
Quick n Crispy Rice Dosa Recipe
Nisha Madhulika
Rating:

5.00

out of

5