Crispy Rava Kachori Recipe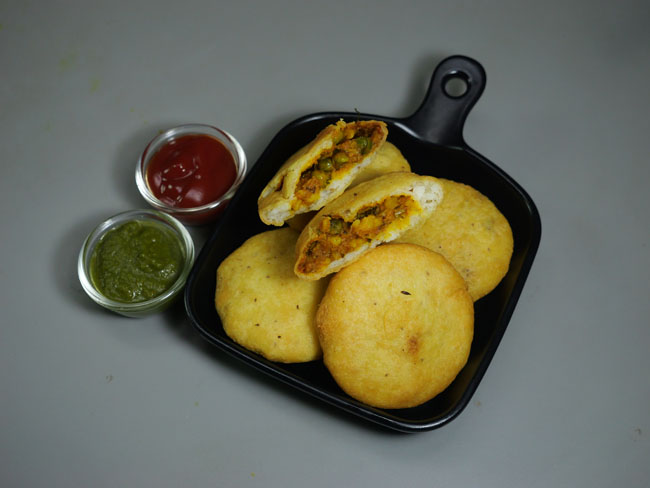 Whenever you eat crispy kachori, it always tastes amazing. Today we are going to make semolina crispy kachori. It is very easy to make them and they are ready in a jiffy. Their taste is very wonderful, if you eat them once, you will like to eat them again and again. So you too make crispy semolina kachoris with this easy recipe and enjoy its taste with your family.
Ingredients for Rava Kachori
For Dough
Salt - 1/2 tsp
Semolina - 1 cup
Carom Seeds - 1/4 tsp
Oil - 1 tbsp
For Stuffing
Oil - 2 tbsp
Cumin Seeds - 1/4 tsp
Coriander Powder - 1 tsp
Ginger - 1 tsp, grated
Green Chilli - 1 tsp, finely chopped
Green Peas - 1/2 cup
Turmeric Powder - 1/4 tsp
Asafoetida - 1/2 pinch
Salt - 1/2 tsp
Red Chilli Powder - 1/2 tsp
Dry Mango Powder - 1/4 tsp
Potato, boiled - 2 (150 g)
Dry Fenugreek - 1 tbsp
Coriander Leaves - 1-2 tbsp
Process of making the Dough
Put 2 cups of water, 1/2 tsp of salt, 1/4 tsp of carom seeds and 1 tbsp of oil in the pan. Let it come to a boil. When it comes to a boil, mix everything well and add 1 cup of finely ground semolina to it. Take the flame and stir it continuously and mix it well and make it like a dough.
When it becomes like dough, turn off the flame and take it out in a bowl. Then spread it and keep it to cool down.
Process of making the Stuffing
After cleaning the same pan, put 2 tbsp of oil in it and heat it. Put 1/4 tsp of cumin, 1 tsp of coriander powder, 1 tsp of grated ginger and 1 tsp of finely chopped green chillies in hot oil. Fry them lightly.
Then add 1/2 cup of frozen green peas, 1/4 tsp of turmeric and 1/2 pinch of asafoetida. Now mix them well and add 1/2 tsp of salt, 1/2 tsp of red chilli powder and 1/4 tsp of dry mango powder. Mix them well.
Then break 2 boiled potatoes in it, add 1 tsp of fenugreek and 1-2 tbsp of green coriander. Fry them by mixing them well and breaking the potatoes. After roasting, take it out on a plate and cool it.
Process of making Crispy Rava Kachori
Take some oil in your hand and mash the dough well and make it smooth. Then break the ball and make it round like a peda. Now give it the shape of a bowl, put some stuffing in it, close it and give it the shape of kachori. Keep it on a plate and prepare the rest of the kachoris in the same way.
Heat oil in a pan, the oil should be very hot and the flame should be high. Put as many kachoris as you can in the pan and let it fry for 3-4 minutes. Then flip them and fry them till they turn golden brown, take them out and fry the rest in the same way. In this way crispy semolina kachoris will be ready, serve them and enjoy their taste.
Suggestions
The dough has to be cooked by stirring continuously.
The stuffing has to be closed well.
While frying the kachoris, the oil should be very hot and the flame should also be high.

Tags
Categories
Crispy Rava Kachori Recipe
Nisha Madhulika
Rating:

5.00

out of

5