Masala Koki Traditional Sindhi Recipe without onion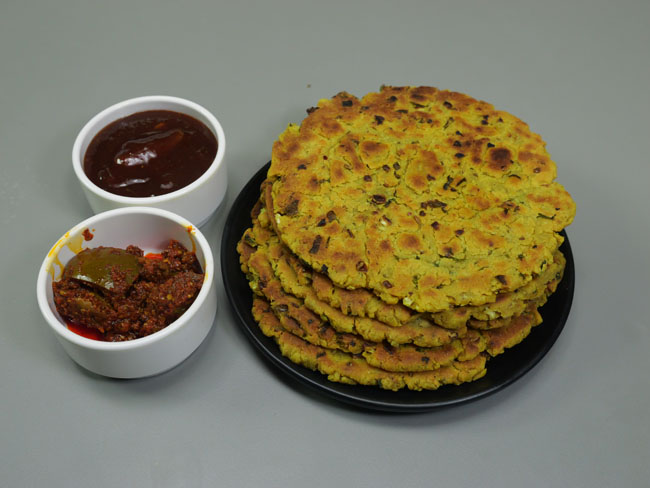 We have made sweet Koki, today we are going to make Masala Koki. This is a famous dish of Sindhis and is ready in a jiffy. It is very easy to make and you will love its taste. You can eat Masala Koki by making it for breakfast in the morning or can also eat it as a snack in the evening. So you too make Masala Koki with this easy recipe and enjoy their taste with your family.
Ingredients for Sindhi Masala Koki
Wheat Flour - 2 cups (250 grams)
Salt - 1/2 tsp
Carom Seeds - 1/2 tsp
Cumin Seeds - 1 tsp
Fenugreek - 1 tbsp
Red Chilli - 1/4 tsp
Green Chilli - 1 tsp, finely chopped
Turmeric Powder - 1/4 tsp
Coriander Leaves - 2-3 tbsp
Ghee - 2 tbsp
Cabbage - 2 tbsp, finely chopped
Process of making the Dough
In a bowl take 2 cups of wheat flour, 1/2 tsp of salt, 1/2 tsp of carom seeds (crushed), 1 tsp of cumin, 1 tbsp of fenugreek (crushed), 1/4 tsp of red chilli, 1 tsp of finely chopped green chillies, 1/4 tsp of turmeric, 2-3 tbsp of green coriander and 2 tbsp of ghee.
Mix them well and add 2 tbsp of finely chopped cabbage and mix it well. Now add water little by little and knead a hard dough from the dough of the roti. Remember don't knead the dough too much, just bind it. After kneading the dough, cover it and keep it for 10 minutes.
Process of making Masala Koki
Break the balls from dough and keep them in a bowl. Now take a ball and make it round like a peda and increase it by pressing lightly with your hand. Then heat the tawa lightly and spread some ghee on it. Then put the dough on the pan and roast it lightly from both the sides.
After roasting, take off the dough, put some dry flour on the chuckle and roll it thick with light hands. After rolling, put it back on the tawa, cook it from both sides by applying ghee and roast till brown spots appear on both sides. Take it off and prepare the rest by rolling them the same way. In this way, Masala Koki will be ready. Serve them with chutney or pickle and enjoy their taste.
Suggestions
The dough has to be kneaded hard and do not mash the dough too much to make it smooth.
Cook the Masala Koki on low-medium flame.
Masala Koki Traditional Sindhi Recipe without onion

Tags
Categories
Masala Koki Traditional Sindhi Recipe without onion
Nisha Madhulika
Rating:

5.00

out of

5