Soft Semolina Burfi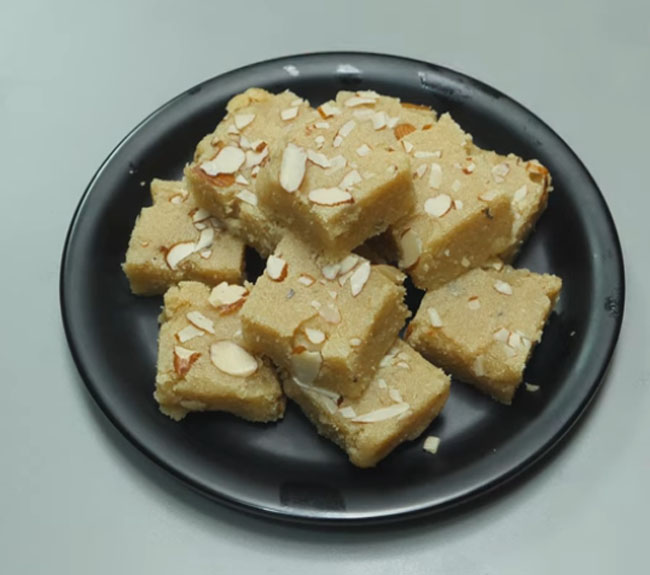 The fun of eating instant sweets is different. That's why today we are going to make soft semolina barfi. We will make this barfi without sugar syrup, mawa, ghee or milk powder. This barfi is very easy to make and it will dissolve as soon as it goes in the mouth. So you too make semolina barfi with this easy recipe and enjoy its taste with your family.
Ingredients for Sooji Malai Burfi
Semolina - 1 cup (180 grams)
Malai - 1 cup
Milk - 1/2 cup
Sugar - 3/4 cup (180 grams)
Cardamom - 5-6
Almond Flakes - 1 tbsp
Process of making Semolina Barfi Recipe
Put 1 cup of fine semolina in the pan and fry it on low-medium flame till it changes colour while stirring continuously. Turn off the flame when it changes colour and take it out in a bowl. Also, for setting barfi, put ghee in a plate and grease it.
Now melt 1 cup of cream in the same pan while stirring it occasionally. When it melts and when it comes to a boil, add 1/2 cup of milk and cook till it comes to a boil. When it comes to a boil, add 3/4 cup of sugar and cook till the sugar dissolves.
When the sugar dissolves completely, add roasted semolina and cook it on medium flame while stirring continuously. When it looks thick, reduce the flame to low and add 5-6 cardamom coarsely ground to it and mix it well. When dough is formed, turn off the flame and take out the mixture in the greased plate and make it uniform.
After doing the same, put some chopped almonds on it and press lightly with a spoon. Then keep it to freeze for 2 hours. Then cut its pieces and heat the plate for 10-15 seconds and take barfi pieces out on a plate. In this way, semolina barfi will be ready, serve them and enjoy their taste.
Suggestions
Roast semolina on low-medium flame.
You can eat this barfi by keeping it outside for 1 week and keeping it in the fridge for 15-20 days.

Tags
Categories
Soft Semolina Burfi
Nisha Madhulika
Rating:

5.00

out of

5