Ram Ladoo & Chutney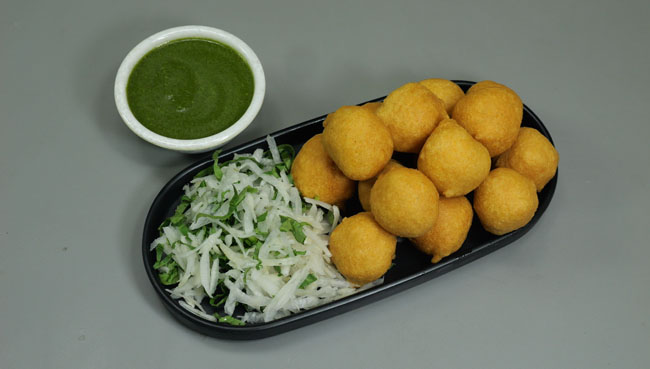 Ram Laddu is very famous in Delhi, so today we are going to make Ram Laddu with the same taste. Along with Ram Ladoo, we will also make green chutney and radish kas to serve with it. It is very easy to make them and they will be ready in a jiffy. So you too make Ram Laddu with this easy recipe and enjoy their taste with your family.
Ingredients for Ram Laddu
Chana Dal - 1/2 cup (100 grams)
Moong Dal - 1/2 cup (100 grams)
Urad Dal - 3 tbsp
Asafoetida - 1 pinch
Salt - 3/4 tsp
Green Chutney - 1 tsp
For Special Green Chutney
Radish Leaves
Coriander Leaves - 1 cup
Green Chilli - 3
Ginger - 1 inch, chopped
Lemon - Lemon - 1
Salt - 1/2 tsp
Black Salt - 1/2 tsp
Dry Mango Powder - 3/4 tsp
Cumin Seeds - 1/2 tsp
Asafoetida - 1/2 pinch
Grated Radish
Chaat Masala
Process of making Green Chutney and Mooli Kas
In a mixer jar, add few radish leaves (washed and dried thoroughly), 1 cup of green coriander, 3 green chilies, 1 inch ginger, juice of 1 lemon, 1/2 tsp of salt, 1/2 tsp of black salt, 3/4 tsp of dry mango powder, 1/2 tsp of cumin seeds, 1/2 pinch asafoetida and 1-2 tbsp of water. Grind them finely and the green chutney will be ready.
Peel the radish, wash it well and dry it. Now grate it with a coarse grater and take it out on a plate. Then add some finely chopped radish leaves and mix it. In this way the grated radish will be tightly ready.
Process of making the Batter for Ram Laddu
Wash 1/2 cup of chana dal, 1/2 cup of moong dal and 3 tbsp of urad dal and soak them in water for 2 hours. After removing their water, put these three lentils, 1 pinch asafoetida and 1 tbsp of water in the mixer jar. Grind them coarsely and take them out in a bowl.
Then beat them continuously for 6-7 minutes. After whisking them well, add 3/4 tsp of salt and 1 tsp of green chutney and mix it well. After getting it, the batter for Ram Laddu will be ready.
Process of frying Ram Laddu
Heat oil in a pan, the oil should be medium-high hot and the flame should be medium-high. Dip the fingers in water and fry the pakoras in hot oil. Put as many as can come in the pan in one turn, let them fry for some time.
Then fry them by turning them till they become golden brown. Take them out and fry the rest in the same way. Ram Laddu will be ready. Put some on a plate and serve them with radish, green chutney and some chaat masala and enjoy their taste.
Suggestions
Oil should be medium-high hot for frying Ram Laddu.

Tags
Categories
Ram Ladoo & Chutney
Nisha Madhulika
Rating:

5.00

out of

5