Tea Time Snacks Crispy Potato Chips Rolls Recipe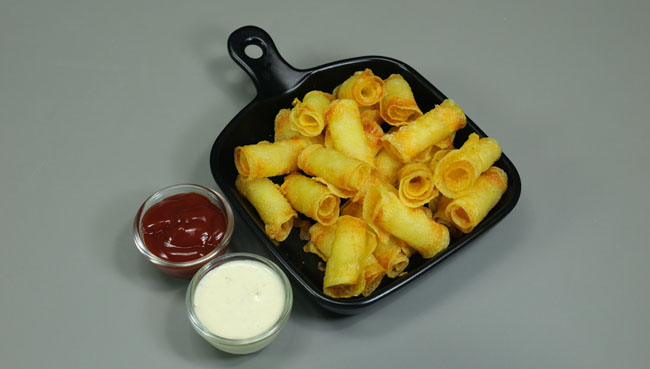 To fill the tea time with more flavour, today we are going to make crispy potato chips rolls. These are completely different from normal potato chips. It is very easy to make them and they are ready in a jiffy. Their taste is somewhat different from potato chips, but the taste is very wonderful. So you too make Potato Chips Rolls with this easy recipe and enjoy its taste with your family.
Ingredients for Potato Chips Rolls
Potato - 2 (400 g)
Corn Flour - 2 tbsp
Salt - a little more than 1/4 tsp
Oil for frying
Process of assembling Potato Chips Rolls
Peel 2 big potatoes and put them in water. After filling water in another bowl, cut potato chips into long and thin pieces with a chip cutter. Now wash them thoroughly. After washing, keep these chips in a tray by laying a cloth in a tray. Then wipe them well with the help of another cloth.
After the chips are dry, place the chips on board one by one on the top and bottom. Then sprinkle cornflour on the chips and spread it evenly. Make a roll by joining two chips from the corner, then put a toothpick in the middle and keep it on a plate. Make all the rolls in the same way and keep them for 10-15 minutes. In this way the potato chips rolls will be assembled and ready.
Process of frying Potato Chips Rolls
Heat oil in a pan, the oil should be slightly hotter than medium and the flame should be medium. Put as many rolls as you can in hot oil for frying and fry for 2 minutes. Then turn them over and fry them on medium flame for 5 minutes, then reduce the flame to low-medium and fry them.
Fry them over and over till they turn golden brown and take them out. Similarly prepare the rest by frying. Potato Chips Rolls will be ready, take out their toothpick and put them in a bowl. Add a little more than 1/4 tsp of salt and mix it well and serve it with your favourite dip and enjoy the taste.
Suggestions
The chips are to be cut into thin slices and have to be washed and dried completely.
The tooth pick has to be put in such a way that its front part goes out slightly. So that it can be easily removed after frying.
Tea Time Snacks Crispy Potato Chips Rolls Recipe

Tags
Categories
Tea Time Snacks Crispy Potato Chips Rolls Recipe
Nisha Madhulika
Rating:

5.00

out of

5