Tea Time snacks Aloo Papdi n Dahi Aloo Chaat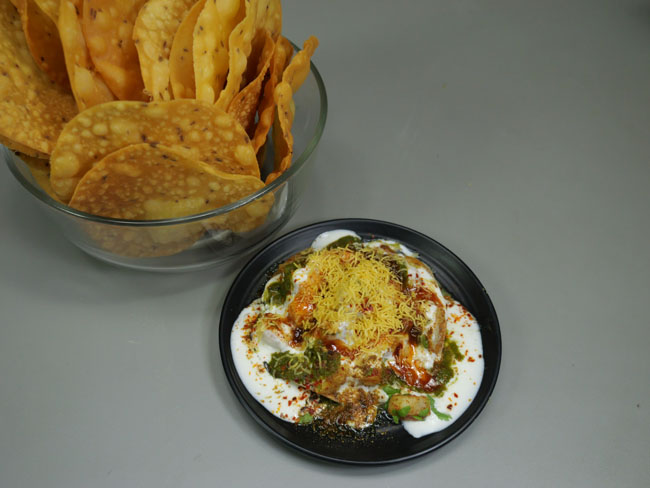 Today we are going to make Aloo Papdi specially for the people who like papdi chaat. You can eat them by making chaat and also as a snack without making chaat. It is very easy to make them and they are ready in a jiffy. They are very crunchy and delicious. So you too make Aloo Papdi with this easy recipe and enjoy the taste of them with your family.
Ingredients for Potato Papdi Namkeen n Chaat
Boiled Potato - 2 (150 g)
Rice Flour - 1/2 cup (80 grams)
Refined Flour - 1/2 cup (60 grams) + 2 tsp
Salt - 1/2 tsp
Cumin Seeds - 1/4 tsp
Carom Seeds - 1/4 tsp
Oil - 1 tbsp
For Chaat
Boiled Masala Aloo
Curd
Green Chutney
Sweet Chutney
Black Salt
Cumin Powder
Red Chilli
Sev
and oil for frying
Process of making the Dough
Grate 2 boiled potatoes in a bowl with a thin grater. Then add 1/2 cup of rice flour, 1/2 cup of all purpose flour (save a little), 1/2 tsp of salt, 1/4 tsp of cumin and 1/4 tsp of carom seeds (crushed). Make a dough by mixing them.
When mixed, add 1 tbsp of oil and mix it well. Then add flour little by little and knead it until it becomes very hard. After the dough is kneaded, keep it covered for 15 minutes.
Process of making the Papdi
After the time is up, mash the dough lightly, break its balls and keep it covered. Now take a ball and wrap it in dry flour and mash it to make it like a peda. Then wrap it back in dry flour and roll it thin. After rolling, cut it with the help of a round lid, spread a cloth and keep it on it.
Roll all the papdis in the same way and keep them on the cloth. Now let the rolled papdi dry open for 15 minutes. Then heat oil in a pan, the oil should be medium hot and the flame should be low-medium. Put 2-3 papdis in hot oil and fry them. Fry them by flipping over and over till they turn golden brown.
Then take them out and fry the rest in the same way. In this way the papdis will be ready after frying. Serve them as a snack and enjoy their taste with your tea.
Process of serving Papdi Chaat
Place a papdi on a plate. Then put boiled potato masala on it. Then pour curd over it, as much as you like. After this add some green chutney, some black salt, some roasted cumin, some red chilli, some sweet chutney and some sev. In this way papdi chaat will be ready. Serve it and enjoy its taste.
Suggestions
For dough, potatoes have to be grated and the dough has to be kneaded very hard.
Roll the papdi and dry it in air for 10-15 minutes.
You can make these papdis once and store them for a full 3-4 months.
Tea Time snacks Aloo Papdi n Dahi Aloo Chaat

Tags
Categories
Tea Time snacks Aloo Papdi n Dahi Aloo Chaat
Nisha Madhulika
Rating:

5.00

out of

5