High Protein & Vitamin Rich Soya Veg Pancake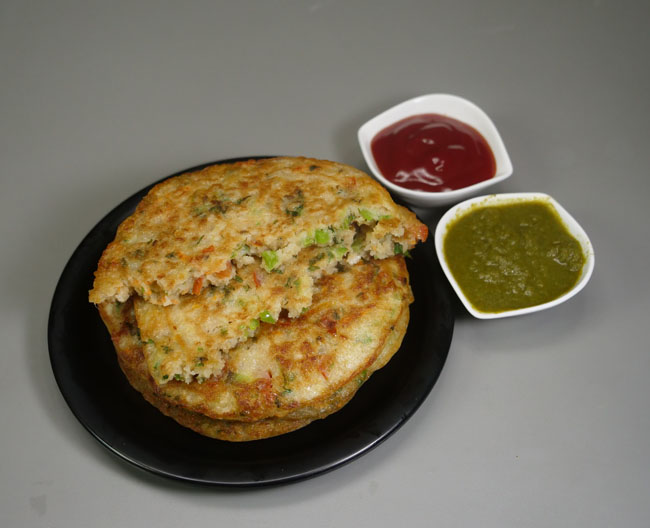 Everyone likes some spicy and healthy snacks during the holidays. So today we are going to make pancakes made of soybeans and vegetables specially for the weekend. They are very tasty to eat and are also very good for health. It is very easy to make them and they are ready in a jiffy. So make this delicious pancake this weekend and enjoy this healthy breakfast with your family.
Ingredients for Soya Vadi Veg Pancake
Soya Vadi - 1/2 cup, soaked
Rice - 3/4 cup (150 g), soaked
Curd - 1/2 cup
Green Chilli - 2
Ginger - 1 inch, chopped
Capsicum - 1/2 cup, finely chopped
Carrot - 1/2 cup, grated
Tomato - 1, finely chopped
Salt - 1 tsp
Cumin Seeds - 1/2 tsp
Coriander Leaves - 1-2 tbsp
Baking Soda - less than 1/4 tsp
Process of making the batter
Soak 1/2 cup of soybeans and 3/4 cup of rice separately in water for 2 hours. Then squeeze the soybeans and put them in a mixer jar and grind coarsely. Take them out on a plate, in the mixer jar add soaked rice(remove water), 1/2 cup of curd, 2 green chilies and 1 inch ginger. Grind them very finely.
In a bowl add rice paste, ground soybean, 1/2 cup of finely chopped capsicum, 1/2 cup of grated carrot, 1 finely chopped tomato, 1 tsp of salt, 1/2 tsp of cumin and 1-2 tbsp of finely chopped coriander leaves. Mix them well, if needed, add 1 tbsp of water and mix well.
When the batter is mixed well, add a little less than 1/4 tsp of baking soda and mix it. In this way the batter for the pancakes will be ready.
Process of making Pancakes
Put some oil in the pan and spread it and heat it lightly. Then put 2 spoons of batter in it and spread it. Now cover it and cook for 2 minutes on low-medium flame. After 2 minutes, pour some oil on it and flip it, then cover it and cook from the other side for 2 minutes. Then take it off and make the rest in the same way.
In this way healthy and soft pancakes made of soybeans and vegetables will be ready. Serve them with your favourite dip and enjoy the taste with your family.
Suggestions
The consistency of the batter should be right.
Pancake is to be cooked on low-medium flame.
High Protein & Vitamin Rich Soya Veg Pancake

Tags
Categories
High Protein & Vitamin Rich Soya Veg Pancake
Nisha Madhulika
Rating:

5.00

out of

5