Mughlai Sheermal Recipe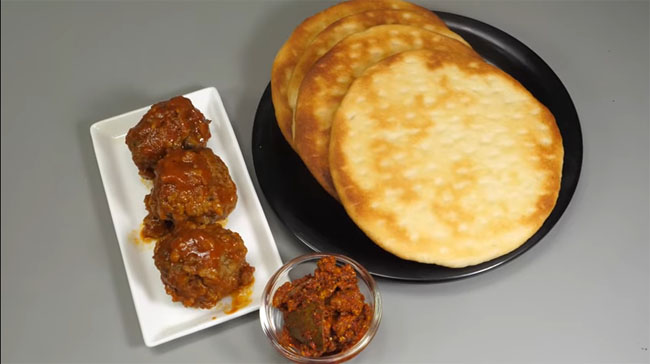 Today we are going to make Iran's famous Sheermal. This is a Mughlai special dish and it is very easy to make. Today we will make sheermal in two ways, one by baking in the oven and one by baking in a pan. Its sweet taste is more delicious with sour pickles or spicy vegetables. So you too make sheermal with this easy recipe and enjoy the taste of it with your family.
Ingredients for Sheermal
Refined Flour - 2 cups (250 grams)
Instant Dry Active Yeast - 1 tsp
Warm Milk - a little more than 1/2 cup
Powdered Sugar - 1/2 cup (70 g)
Salt - 1 pinch
Ghee - 1/3 cup (70 grams)
Process of making Dough
Put 2 cups of all purpose flour in a bowl and make a space in the middle. Now add 1 tsp of instant active yeast, ½ cup of sugar powder, 1 pinch of salt and add little by little warm milk and knead a hard dough. After kneading the dough, add ⅓ cup of light hot ghee to it and knead it until the ghee mixes in the dough.
When the ghee mixes well in the dough, mash the dough well. After kneading the dough, keep it in a bowl, cover it with polythene wrap, cover it with a lid and keep it in a warm place in the kitchen for one and a half hours.
Process of making Sheermal in Oven
After the time is up, mash the dough lightly by applying some dry flour on the hand. Then keep the dough on the board and roll it lightly. Now cut small portions of dough. Make round balls and keep them on a plate, cover them with a cloth and keep it for 10 minutes.
Now take a dough, cover the rest, wrap it in dry flour and roll it out lightly. Then make marks in this roti with the back of the spoon. Put butter paper in a baking tray and place this roti in it. Make a mark by rolling the second roti in the same way and keep it in the tray.
Preheat the oven to 220 degree centigrade. Then put the tray in the oven. After baking them for 5 minutes, keep watching them, as soon as they see light pink, take them out and check them. If they are lightly baked, then flip the tray and bake them for 2 minutes.
Then take them out and keep them on the mesh. Apply water on them with a brush on both sides, then apply ghee on them. Similarly prepare the rest by making them in the oven.
Process of making Sheermal in pan
Keep the butter paper double in the pan. Heat the pan on medium and keep the flame medium too. Roll the sheermal and make marks on it, then keep it in the hot pan and bake it. Cover it and cook for 2-3 minutes. Then turn it over and cover and bake the other side in the same way for 2-3 minutes.
When baked, take it out and put it on the mesh and apply water and ghee with a brush on both sides. Cook the rest in the same way. In this way sheermal will be ready. Serve them and enjoy their taste.
Suggestions
You can keep them in the fridge and eat them for 7 days.

Tags
Categories
Mughlai Sheermal Recipe
Nisha Madhulika
Rating:

5.00

out of

5