Malai Soya Chaap Dhaba Style Recipe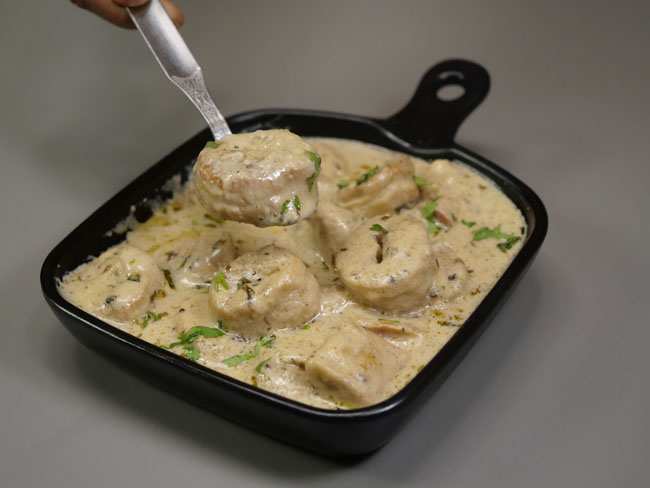 Today we are going to make soya chaap in white gravy apart from the daily spicy food. It is very easy to make and has a wonderful taste. Its taste will change the taste of your mouth. You can serve this soya chaap as a curry and also as a snack. So you too make soya chaap in white gravy with this easy method and enjoy the taste with your family.
Ingredients for Soya Chaap in white gravy
Soya Chaap - 200 gms
Salt - 1/2 tsp
Black Pepper - 1/4 tsp
Oil - 3 tbsp
Cumin Seeds - 1/4 tsp
Coriander Powder - 1 tsp
Ginger Chilli Paste - 1 tsp
Cinnamon - 1/2 inch
Clove - 2
Black Pepper - 10-12
Big Cardamom - 1
Bay Leaf - 1
Curd - 1/2 cup
Cashews - 12-15
Salt - a little less than 1/2 teaspoon
Malai - 2 tbsp
Green Coriander
Process of frying Soya Chaap
Remove the stick from 200 grams of soya chaap and cut the pieces into ½ inch pieces. Place them on a plate and add ½ tsp of salt and ¼ tsp of ground black pepper. Mix well and keep for 5 minutes.
Meanwhile, coarsely ground 1 peeled large cardamom, 10-12 black pepper and 2 cloves. Take them out in the bowl. Now heat 3 tbsp of oil in a pan and add soya chaap pieces for frying. Turn them over and fry until golden brown from all sides.
Process of making Gravy
In the same pan, heat the remaining oil on low flame. In hot oil lightly saute ¼ tsp of cumin seeds, 1 bay leaf, ½ inch of cinnamon, crushed spices and 1 tsp of green chilli ginger paste. Then add 1 tsp of coriander powder and mix well.
Now turn off the flame and add a paste of ½ cup of fresh curd and 12-15 cashew nuts. Mix them well, turn on the flame and stir fry continuously on low flame till the oil separates. When oil separates, add 2 tbsp of cream, stir fry continuously till oil separates.
When it is fried, add 2 cups of water and cook till it boils. Then add a little less than ½ tsp of salt and a little finely chopped green coriander and mix well. When mixed, add fried soya chaap pieces and mix well.
Now cover them and cook on low flame for 4-5 minutes. After 5 minutes, stir them once, cover and cook for 3-4 minutes. When the time is up, turn off the flame. Soya chaap in white gravy will be ready. Serve it and enjoy the taste.
Suggestions
Fry the soya chaap piece on low-medium flame.
Make sure to turn off the flame before adding curd cashew paste in oil masala, there is a risk of cracking of curd. Then mix them well and burn the flame again.
You can keep the gravy as thin or thick as you like.
Malai Soya Chaap Dhaba Style Recipe

Tags
Categories
Malai Soya Chaap Dhaba Style Recipe
Nisha Madhulika
Rating:

5.00

out of

5