Poha Capsicum Veg Cutlet Recipe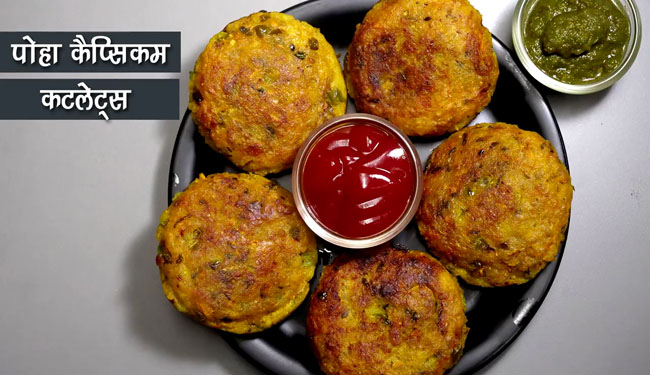 Today we are going to make special cutlets of Poha Capsicum for the perfect breakfast during the holidays. It is very easy to make them and they will be ready in a jiffy. These cutlets are very tasty to eat and it is also a very light snack. So you can also make Poha Capsicum Cutlets with this easy method and enjoy their taste with your family.
Ingredients for Poha Capsicum Veg Cutlet
Poha - 1 cup (65 grams)
Boiled Potato - 2 (150 g)
Capsicum - 1 small
Carrot - 1 small
Ginger Chilli Paste - 1 tsp
Coriander Powder - 1 tsp
Red Chilli - 1/2 tsp
Amchoor Powder 1/2 tsp
Cumin Powder - 1/2 tsp
Garam Masala - 1/4 tsp
Salt - 3/4 tsp
Green Coriander - 2 tbsp
Process of making Dough
Wash 1 cup of poha thoroughly, add some water and keep it for 5 minutes. After 5 minutes, mash them. Then add finely chopped 1 small capsicum, 2 grated boiled potatoes, finely chopped 1 small carrot and 2 tbsp of finely chopped green coriander.
Then add 1 tsp of coriander powder, ½ tsp of red chilli, ½ tsp of amchur powder, ½ tsp of cumin powder, ¼ tsp of garam masala, ¾ tsp of salt and 1 tsp of ginger green chilli paste.
Mix them well, as well as add 2 tbsp of cornflour to it, knead a soft dough like paratha by adding some oil. In this way the dough for Poha Capsicum Cutlet will be ready.
Process of making Poha Capsicum Cutlets
Put some dry flour on your hand and take a little dough. Then press it round and give it the shape of tikki. Keep it on a plate and assemble the rest of the cutlets in the same way. Now put 4-5 tbsp of oil in the pan and heat it.
Put as many cutlets as you can in hot oil and fry them. Fry them from both the sides till they turn golden brown. Fry the rest in the same way and prepare it. In this way Poha Capsicum Cutlets will be ready. Serve them and enjoy their taste.
Suggestions
Vegetables can be taken more or less according to your choice.
Poha Capsicum Veg Cutlet Recipe

Tags
Categories
Poha Capsicum Veg Cutlet Recipe
Nisha Madhulika
Rating:

5.00

out of

5