Navratri Vrat Singhare ki barfi recipe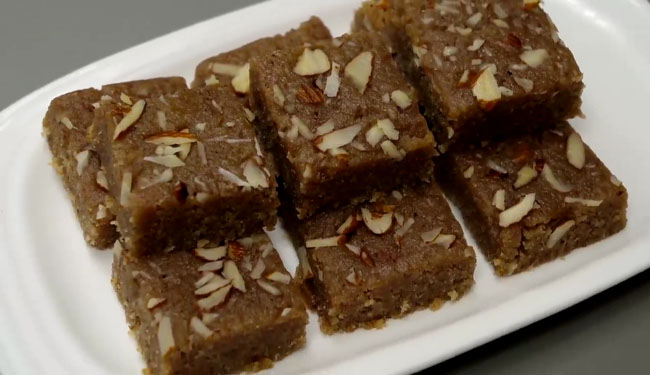 During the fast, we like to eat something sweet every day. That's why today we are going to make singhare ki barfi. It is very easy to make and you can make it on the first day of Navratri, you can enjoy its taste for the whole 9 days. It gets ready in a jiffy with very few ingredients. Apart from Navratri, you can make and eat them like this at any time. So you too make singhare ki barfi with this easy recipe and enjoy its taste with your family.
Ingredients for Singhara Atta Burfi
Ghee - 80 grams
Water chestnut Flour - 1 cup (150 grams)
Desiccated Coconut - 1/2 cup (40 grams)
Almond Powder - 1/4 cup (30 grams)
Milk - 1/2 litre, full cream
Sugar - 3/4 cup (150 grams)
Cardamom - 4, coarsely crushed
Almond Flakes
Process of making Singhare ki Barfi
Put 3-4 tbsp of ghee in a pan and heat it. Put 1 cup of water chestnut in hot ghee and fry it on low-medium flame while stirring continuously. If the ghee is less then add more. Fry the flour till the ghee separates. After roasting, add ½ cup of desiccated coconut and fry it for 1 minute while stirring continuously.
After 1 minute, add ¼ cup of almond powder and fry for 1 minute while stirring continuously. After roasting, turn off the flame and take it out on a plate. Now put ½ litre of full cream milk in the same pan and cook on high flame till it boils. When it comes to a boil, cook for a while, stirring occasionally, till about half of it remains and until it becomes thick.
When the milk becomes thick, add ¾ cup of sugar and cook till it dissolves in the milk. After the sugar dissolves, add roasted flour to it, reduce the flame to medium. Now cook it while stirring continuously till it becomes thick. When it becomes slightly thick, add 4 coarsely crushed cardamom and cook it while mixing it well.
Turn off the flame when the mixture becomes thick. Put butter paper on the tray and grease it with ghee. Now spread the mixture on a butter paper. It has to be spread slightly thick. After spreading, put almond flakes on it and press lightly with a spoon. Keep it to set for 2 hours. Then cut it and serve barfi and enjoy its taste.
Suggestions
Roast the Singhade flour on low-medium flame.
Cook till the milk becomes thick and remains half.
Navratri Vrat Singhare ki barfi recipe

Tags
Categories
Navratri Vrat Singhare ki barfi recipe
Nisha Madhulika
Rating:

5.00

out of

5