Sun Dried Potato Chips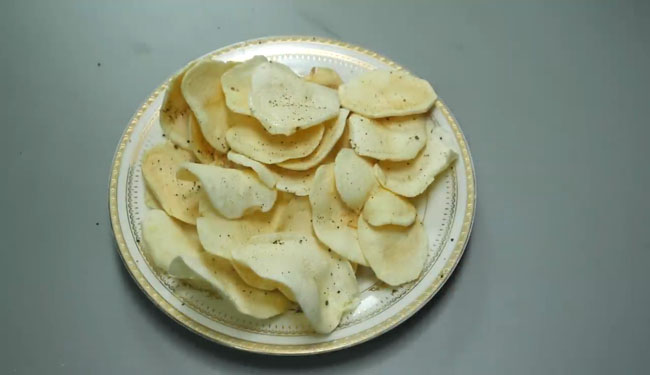 Homemade potato chips are very tasty to eat. That's why today we are going to make crunchy potato chips. Make them once and keep them and then you can fry and eat them whenever you want for a whole year. You can make potato chips without salt and fry them and eat them even during fasting. So you too make these crispy potato chips with this easy method and enjoy its taste with your family.
Process of making Potato Chips
Peel 2 kg of potatoes and put them in water, otherwise their colour will turn black. Now fill water in a bowl and add ½ tsp of alum to it and mix it well. Now cut each potato with a chip cutter and put it in it and as soon as the bowl is full, take out the chopped potato chips from it and put it in another bowl and chop the rest of the potatoes in the same bowl.
Remember, potatoes and chips have to be kept in water all the time, otherwise their colour will start turning black. While cutting potato chips, remove the thin piece which will remain at the end. After cutting all the potatoes, soak them in water for 1 hour.
After the time is up, wash them thoroughly with water three times and take them out in a bowl. Now take enough water in a big pan so that these chips can be submerged properly. When the water comes to a boil, put chips in it, dip them well and cover them halfway and cook it on high flame till it boils.
When they come to a boil, stir them lightly, then check them, they should be pressed. If they are not pressing then cover them back and boil them for 2-3 minutes. After the time is up, check them back, they will start to sizzle, then immediately turn off the flame and take them out in a sieve.
Now keep them separately in the sun and when they get dry, turn them over. Similarly, they have to be dried in the sun for 2 days. After drying, they will be ready, store them in any container.
Process of frying the Potato Chips
Heat the oil, it should be very hot and the flame should be high. Put some chips in hot oil and fry them while turning them. As soon as they are fried, take them out and fry the chips according to the number of servings.
In this way the potato chips will be ready after frying. Serve them with sizzling normal salt and black salt and enjoy their taste.
Suggestions
You can also make salty chips by adding 2 teaspoons of salt to the water while boiling potato chips.
They have to be dried in the sun for 2-3 days. If there is no sunlight, then you can dry them in fan air.
After drying, keep them in any container, you can eat them for a whole year.

Tags
Categories
Sun Dried Potato Chips
Nisha Madhulika
Rating:

5.00

out of

5