Instant Masala Chakli Recipe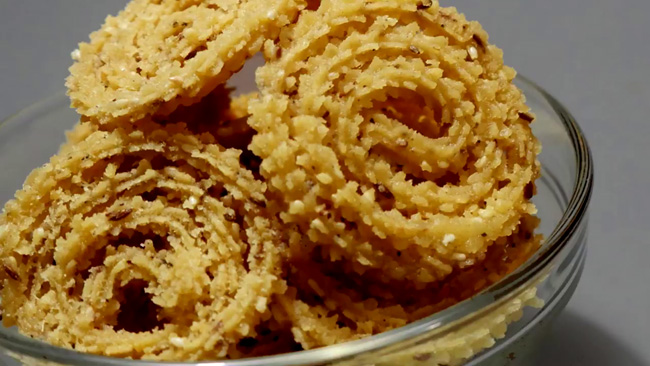 Today we are going to make Chakli of maida without using oil. It is very easy to make them and they will be ready in a jiffy. Their shelf life is also very long, you can keep them in one turn and then enjoy them for many days. So you too make chakli of maida with this easy method and enjoy its taste.
Ingredients for Refined Flour Chakli
Refined Flour - 1 cup (130 grams)
Sesame seeds - 1 tsp
Cumin seeds - ½ tsp
Carom seeds - ½ tsp
Black pepper - ½ tsp, crushed
Salt - ½ tsp
Oil for frying
Process of making the Dough
Spread a cloth and put 1 cup of all purpose flour in it and close it with a cloth. Then keep it in a steel bowl. Put some water in the cooker and keep the lid on it and keep the bowl on it. Now close the cooker and cook it on high flame till one whistle comes. After a whistle, reduce the flame to low and cook it on low flame for 15 minutes.
When the time is up, turn off the flame and take out the pressure of the cooker and cool it. Then take out the cloth and knead the flour lightly with a rolling pin while covered with cloth. Sieve the flour and take it out in a bowl.
Now add ½ tsp of salt, ½ tsp of crushed black pepper, ½ tsp of carom seeds (crushed), ½ tsp of cumin seeds and 1 tsp of sesame seeds. Mix everything well and knead a soft dough by adding water little by little.
Process of making Chakli
Take the chakli making machine and mash the dough lightly, divide it into two parts and put it in the machine while increasing it in length. Grease the plate with oil, then turn off the machine and make chaklis by making rounds on the plate.
Heat oil in a pan, the oil should be slightly hotter than medium and the flame should be medium. Fry the chaklis in hot oil till they turn light brown. Then fry them by turning them till they become light brown. Then take them out and fry the rest in the same way. Maida ki chaklis will be ready in this way, serve them and enjoy their taste.
Suggestions
The dough has to be kneaded soft like a paratha.
The oil should be slightly hotter than medium while frying.
When the chakli cools down, store it in any container. You can keep it for a month and eat it.

Tags
Categories
Instant Masala Chakli Recipe
Nisha Madhulika
Rating:

5.00

out of

5