Baked Veg Pizza Mcpuff Recipe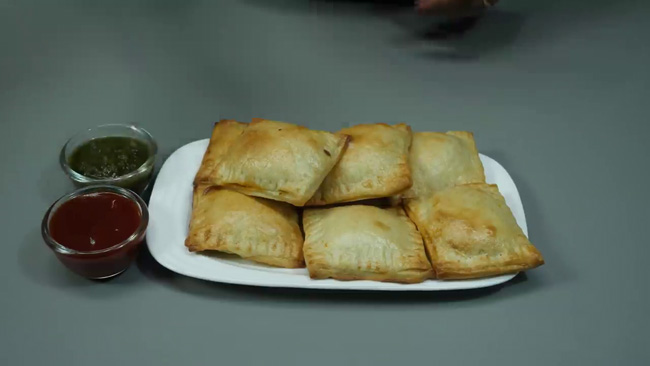 Today we will make Pizza Puff specially for kids. It is very much liked by the children as well as the elders. There are many people who do not like to eat too much oil. So today we will bake them and make them by baking in very less oil in 2 ways. So you too make this pizza puff with this easy method and enjoy its taste.
Ingredients for Pizza Puff
For Dough
Refined Flour - 2 Cup (250 grams)
Baking Powder - 1 tsp
Salt - ½ tsp
Oil - 6 tbsp
For Stuffing
Oil - 1 tbsp
Ginger - 1 tsp, grated
Sweet Corn - 2-3 tbsp
Peas - 2-3 tbsp
Carrot - ½, Chopped
Green Capsicum - ½ Cup, Chopped
Tomato - ½ Cup, Chopped
Salt - ½ tsp
Oregano - 1 tsp
Schezwan Sauce - 1 tsp
Tomato Sauce - 2 tbsp
Frozen Cheese - ½ Cup
Process of making the Dough
Take 2 cups of all purpose flour, ½ tsp of salt, 1 tsp of baking powder and 6 tbsp of oil in a bowl. Mix them well and knead hard dough by adding little by little water. After kneading, cover it and keep it for half an hour.
Process of making Stuffing
Put 1 tbsp of oil in a pan and heat it. Put 1 tsp of grated ginger in hot oil and fry it lightly. Reduce the flame to low and add 2-3 tbsp of sweet corn and 2-3 tbsp of peas and fry for 1 minute.
Then add ½ cup of finely chopped carrots, ½ cup of finely chopped capsicum, ½ cup of finely chopped tomatoes, ½ tsp of salt, 1 tsp of oregano, 1 tsp of schezwan sauce and 2 tbsp of tomato sauce. Now mix them and fry the vegetables for 2 minutes.
Then put 2 tbsp of water in it, cover it and let it cook for 2 minutes. When the time is up, turn off the flame and take it out on a plate and let it cool. When it cools down, add ½ cup of frozen cheese and mix it well. In this way the stuffing will be ready.
Process of assembling Pizza Puff
Mash the dough well and divide it into 6 equal parts. Take out one part of dough and keep the rest covered. Roll it into a round shape, remember that it should neither be too thin nor too thick. After rolling, cut an equal sheet of 6/6 and keep extra dough.
Now cut 4 square parts equal to this sheet. Put some water on its four corners. Put a little stuffing on two parts and cover both with the other part and stick the corners well. Then make a design on its corners with a forked spoon. In this way, assemble the rest and keep it on a plate.
Process of baking in Oven
Preheat the oven to 200 degree centigrade for 5 minutes. Meanwhile, place some pizza puffs in a baking tray. Mix cream and water in a bowl, then coat the pizza puff with a brush. When the oven is preheated, place the baking tray in the oven and bake at 200 degree centigrade for 10 minutes.
When the time is up, take them out, turn the tray and put it in the oven and bake for 5 more minutes. After 5 minutes they will be baked, take them out.
Process of baking in the pan
Put 2 cups of salt and a mesh stand in a thick bottomed pan, cover and let it heat for 7-8 minutes on high flame. Meanwhile, grease the plate which can easily come in the pan, put the pizza puffs in it and coat it with cream.
When the time is up, keep the plate carefully on the mesh stand. Then cover it and bake it on medium-high flame for 10 minutes. Check them when the time is up, then cover them back and bake for 10 minutes. Now check back and bake for another 10 minutes. In this way, pizza puffs will be ready after being baked in a pan for 30 minutes. Take them out.
Serve pizza puffs with any dip of your choice and enjoy the taste.
Suggestions
Knead the dough lightly.
While assembling the pizza puff, apply water on the corners and stick it well.
While baking in the oven, it has to be preheated to 200 degree centigrade.
While baking in a pan, first bake for 10-15 minutes, then check and bake till they turn golden brown.

Tags
Categories
Baked Veg Pizza Mcpuff Recipe
Nisha Madhulika
Rating:

5.00

out of

5