Homemade Crunchy and Crisp Milk Rusk Recipe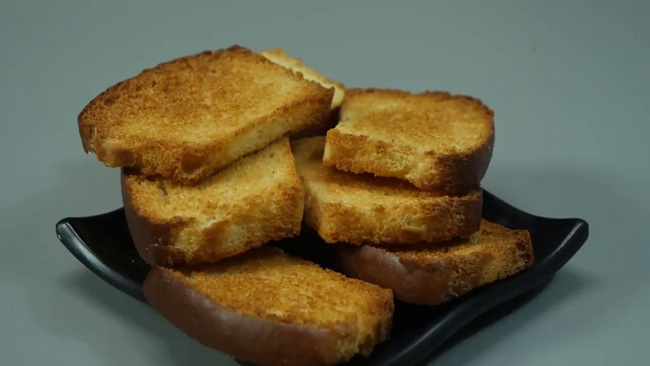 Rusks taste very tasty with tea. These are also called toasts and they can be eaten anytime in the morning and evening. The method of making them is very easy. Make rusks with this easy recipe and add a crunchy taste to your snack time. You can make them once and eat them for a long time.
Ingredients for Milk Rusk
Sugar Powder - 2 tbsp
Refined Flour - 1 cup (125 grams)
Milk Powder - 2 tbsp
Full Cream Milk - ½ cup + ½ tsp
Salt - 1 pinch
Instant Active Yeast - 1 tsp
Oil - 2 tbsp
Process of making dough
In a bowl add 1 cup of all purpose flour, 2 tbsp of sugar powder, 2 tbsp of milk powder, 1 pinch of salt and 1 tsp of instant active dry yeast. Knead a soft dough by adding lukewarm water. Now take 2 tbsp of oil little by little on the hand and mash the dough well and make it soft. Cover the dough and keep it in a warm place for 1-1.5 hours.
Process of baking Bread
Take some oil and mash the dough well for 5-6 minutes. If the dough seems a little thin, then add some flour to it and if it becomes thick, add some water to it and mash it well. When mashed, raise it like a roti with your hands. Then roll it by pressing, pressing it well so that there is no air left in the middle. Press well and grease the baking container with butter paper and grease it with oil.
Then keep the dough rolled in it and make it the same. Cover it with a cloth and keep it in a warm place for 1 hour. When the time is up, preheat the oven at 170 degree centigrade for 8 minutes. After 8 minutes, put the container in the oven and bake the bread for 10 minutes at 170 degree centigrade.
When the time is up, turn it and set the oven on the bottom bar and bake the bread at 170 degree centigrade for 5 minutes. After 5 minutes the bread will be ready to be baked, cover it with some oil and keep it to cool for half an hour.
Process of baking Rusk
When the bread roll cools down, take it out of the container and cut it into slices. Put it in a baking tray and bake it for 15 minutes by setting it on both the bars at 170 degree centigrade. When the time is up, turn them over and bake them at 160 degree centigrade for 10 minutes. In this way crunchy milk rusks will be ready. Keep them in a container and enjoy them with tea or milk.
Suggestions
All the things have to be measured for the dough.
The dough should neither be too thin nor too hard.
After the time of keeping the dough is over, it has to be mashed for 10-12 minutes.
You can keep them in an airtight container and eat it for 15-20 days.
Homemade Crunchy and Crisp Milk Rusk Recipe

Tags
Categories
Homemade Crunchy and Crisp Milk Rusk Recipe
Nisha Madhulika
Rating:

5.00

out of

5