Sindhi Cuisine, Meethi Lolo - Sindhi Kiki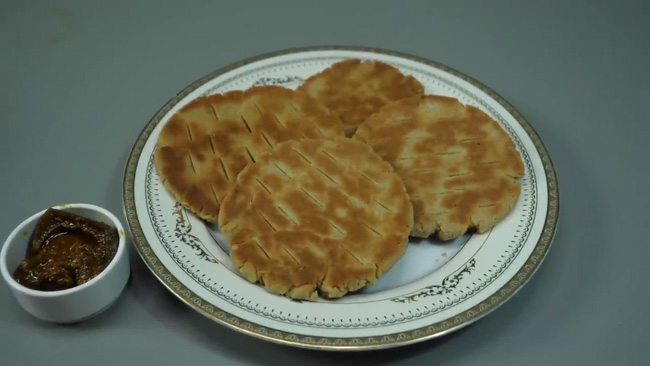 Today we are going to make a special Sindhi recipe, Sweet Koki. It is very easy to make and they are ready in a jiffy. They are like a kind of sweet biscuits. They are so delicious to eat that once you feed them to the kids, they will insist on eating it again and again. So you too make Sweet Koki with this easy recipe and enjoy its taste with your family.
Ingredients for Sweet Koki - Meethi Lolo
Sugar - ½ Cup (100 grams)
Water - 6 tbsp
Wheat Flour - 2 Cup (300 grams)
Desi Ghee - 8 tbsp
Cardamom - 5-6 , coarsely ground
Process of making Sweet Koki
Put ½ cup of sugar and 6 tbsp of water in the pan and cook it till the sugar dissolves. When sugar dissolves in water, syrup will be ready. Take it off and keep it to cool down. Meanwhile, in a bowl add 2 cups of wheat flour, 5-6 coarsely ground cardamom and 4 tbsp of ghee and mix it well.
When the sugar syrup cools down, add it little by little to the flour and knead it into a hard dough. After kneading, cover it and keep it for 10 minutes. After the time is up, take ghee on your hand and mash the dough lightly, if it seems too dry then 2-3 spoons of water can be used.
After mashing, cut it into 4 equal parts. Take one part and keep the rest covered. Make this part round and tie it like a peda. Roll it thickly into a diameter of 3-3.5 inches. Then with the help of a knife, mark small cuts in it, remember that the knife is not to be taken down.
Now heat the tawa, pour some ghee and spread it on the tawa. Keep the Koki on the tawa and let it roast for 2-3 minutes on low flame. When the time is up, turn it over and cook it from the other side for 2-3 minutes and spread ghee on the fried side. Flip it back and apply ghee and roast it on low flame till it turns golden brown from both the sides.
After roasting, take it off and bake the rest in the same way. Sindhi Special Sweet Koki will be ready. Serve them with mango pickle or any other favourite dip and enjoy their taste.
Suggestions
The dough has to be kneaded a little hard, as it gets tougher later.
Bake them for 2-3 minutes till they turn golden brown from both the sides.
Do not place them one on top of the other on the plate after roasting, because of this they start sticking.
Do not lift them too much while rolling, there is a fear of breaking them.
The flame has to be kept low while roasting.
You can keep it outside and eat it for 4-5 days and keep it in the fridge and eat it for 20-21 days.
Sindhi Cuisine, Meethi Lolo - Sindhi Kiki

Tags
Categories
Sindhi Cuisine, Meethi Lolo - Sindhi Kiki
Nisha Madhulika
Rating:

5.00

out of

5