Mumbai Special Masala Pav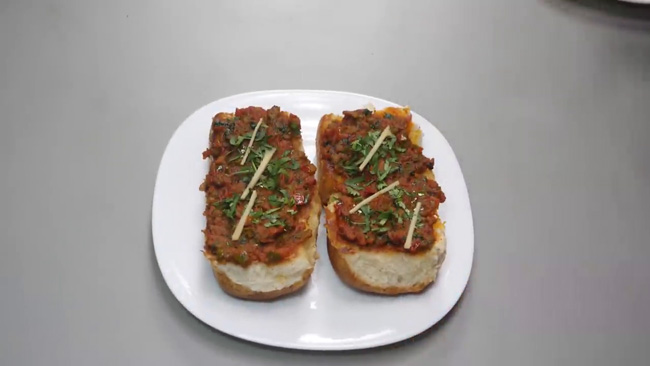 If your daily breakfast of porridge, sprouts or poha fills you up, then definitely read our recipe today. Today we are going to make the famous Masala Pav of Maharashtra. It is very easy to make them and they are ready in a jiffy. So you also make masala pav for breakfast and enjoy this taste of Maharashtra.
Ingredients for Masala Pav
Desi Ghee - 1 tbsp
Turmeric Powder - ¼ tsp
Cumin Seeds - ½ tsp
Coriander Powder - 1 tsp
Green Chilli-Ginger Paste - 1 tbsp
Capsicum - 1, finely chopped
Tomato - 2, finely chopped
Salt - a little more than ½ tsp
Red Chilli Powder - 1 tsp
Pav Bhaji Masala - 1 tsp
Butter - 2 tbsp
Coriander Leaves - 2-3 tsp
Pav - 4
Process of making Masala
Put 1 tsp of ghee in a pan and heat it. Reduce the flame to low and put ½ tsp of cumin, ¼ tsp of turmeric, 1 tsp of coriander powder and 1 tbsp of ginger green chilli paste in hot ghee. After frying the spices lightly, add 1 finely chopped capsicum and 2 finely chopped tomatoes and turn up the flame to medium.
Then add a little more than ½ tsp of salt, 1 tsp of kashmiri red chilli powder and 1 tsp of pav bhaji masala. Cook them while stirring them for a while, cover and cook for 2-3 minutes. After 2 minutes, after stirring it, add 2 tablespoons of butter and mash them well with a masher. Add 1 tsp of water and cook for 1 minute while mashing. When the time is up, add 2-3 teaspoons of green coriander and mix it. Masala will be ready, take it out on a plate.
Process of assembling Masala Pav
Put some butter on the pan, cut the pav from the middle and roast it on medium flame. After turning it, reduce the flame to and spread it by applying spices, then turn off the flame and put some green coriander and 3-4 ginger julienne on it and keep it in a plate. Delicious masala pav is ready, serve it and enjoy its taste. Similarly make as many as you want.
Suggestions
If you eat onions, then after roasting cumin seeds, cut 1 finely chopped onion and 7-8 cloves of garlic and fry till it becomes pink. Then add the rest of the spices according to the method.

Tags
Categories
Mumbai Special Masala Pav
Nisha Madhulika
Rating:

5.00

out of

5