Crispy and Spicy Layered Namak Pare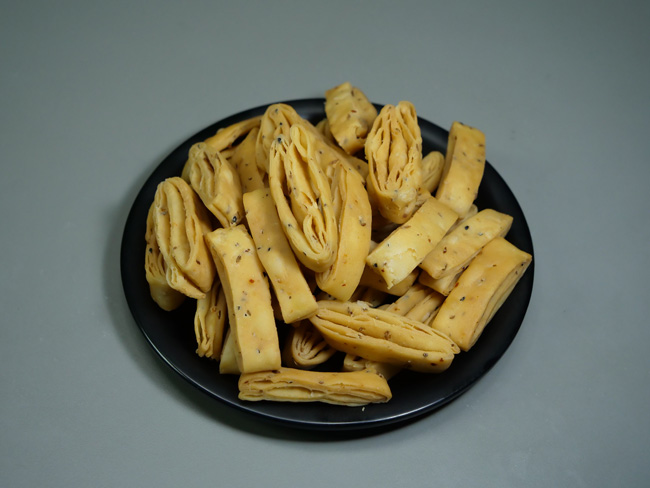 On this special occasion of Holi, today we are going to make crunchy masala namak pare with layers like puff biscuits. It is very easy to make them. We will make these sheets in such a way that they will become perfectly layered namak pare. It will be so delicious that your guests will love to taste it. So, on this occasion of Holi, make crunchy masala layered namak pare in advance and win the hearts of the guests on this festival.
Ingredients for Masala Layered Namak Paare
Refined Flour - 2 cups (250 grams)
Salt - ¾ tsp
Cumin Seeds - 1 tsp
Red Chilli - ½ tsp
Black Pepper - ¼ tsp
Fennel Flower - ½ tsp
Carom Seeds - ½ tsp
Asafoetida - 1 pinch
Ghee - 4 tbsp (60 g)
For Santa
Ghee - 2 tbsp
Refined Flour - 2 tbsp
Oil for frying
Process of making the Dough
In a bowl take 2 cups of all purpose flour, ¾ tsp of salt, 1 tsp of cumin, ½ tsp of red chilli, ¼ tsp of black pepper, ½ tsp of kalonji, ½ tsp of carom seeds (crushed), 1 pinch of asafoetida and 4 tbsp of ghee put it.
Mix them well and knead a hard dough by adding little by little water. After kneading, cover it and keep it for half an hour.
Process of assembling Namak Pare
Mash the dough well for 2-3 minutes and make it smooth. Then press it round and increase it lightly. Now cut 4 equal pieces, take out 1 piece and keep the rest covered. Make it square and roll it into a thin square.
Now melt 2 tbsp of ghee in a bowl, add 2 tbsp of all purpose flour to it and mix it well to make a paste. Apply a thin layer of it on the rolled sheet. Then bring the upper part of the sheet in the middle and fold it by joining the edges. Now fold the other edge, also bringing it in the middle.
Now put a thin layer of saanta on it, then fold it bringing both the corners in the middle. Roll it back after sticking it well, not as thin and big as before, just roll it slightly thick. Then fold it into three parts, fold it once and then fold it for the second time covering it.
Press it well and roll it in length, as well as in light width. Then cut strips of ½-¾ inch from it. Also, light wide strips can also be cut, they will become like biscuits for children. Cut them and keep them on a plate and fold the rest in the same way and cut them by sticking them with a saanta.
Process of frying Namak Pare
Heat the oil, it should be less than medium hot and the flame should be low-medium. Put some namak pare in lightly hot oil and let them fry. After 2-3 minutes, when they float up, then fry them by turning them till they become light pink.
Take them out and fry the rest in the same way, in this way crispy namak pare with masala layer will be ready. Serve them and enjoy their taste.
Suggestions
Knead the dough slightly hard.
While frying the oil should be less than medium hot and the flame should be low-medium.
After cooling completely, keep them in any air tight container. You can eat them for a full 2 ​​months.
Crispy and Spicy Layered Namak Pare

Tags
Categories
Crispy and Spicy Layered Namak Pare
Nisha Madhulika
Rating:

5.00

out of

5