Soft Besan Barfi Recipe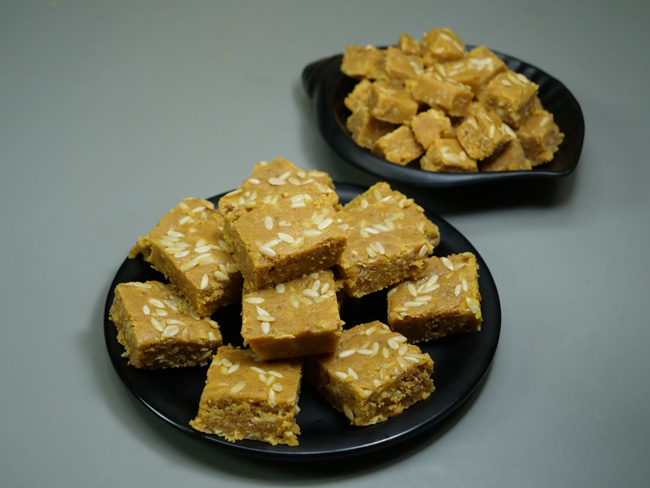 Today we are going to make special besan barfi for some special occasions. This is a very grainy and delicious barfi. By eating this, you will feel like you are eating soan halwa. It is very easy to make and if you eat it once, you will like to eat it again and again. So on the special occasion of your family, you can also make besan barfi and enjoy its taste.
Ingredients for Besan ki Special Burfi
Semolina - ½ cup (90 grams)
Ghee - 160 grams
Gram Flour - 2 cups (250 grams)
Milk - 2 tbsp
Muskmelon Seeds - ½ cup (60 grams)
Sugar - 1.5 cups (325 grams)
Small Cardamom - 8, coarsely crushed
Process of roasting Semolina-Gram flour
Fry ½ cup of fine semolina in a pan while stirring continuously. As soon as the pan becomes hot, reduce the flame to medium. After frying for 2 minutes, add 160 grams of ghee and melt the ghee while stirring continuously. After the ghee melts, add 2 cups of gram flour and fry it on medium flame while stirring continuously.
When there is a slight change in colour and a good aroma comes, add 2 tbsp of milk 1 by 1 to it, while stirring gram flour continuously. After adding milk, fry it for 3-4 minutes, turn off the flame, keep the pan aside and keep stirring it till the pan cools down.
Also, put ½ cup of muskmelon seeds in another pan and fry them. Roast it on medium flame while stirring continuously till it crackles. Turn off the flame and keep stirring it for some time when the colour changes slightly and they swell. Then take it out in a bowl.
Process of making Sugar Syrup
Put ghee in the tray and grease it well. Now put 1.5 cups of sugar and ¾ cup of water in a wide pan and cook on high flame, stirring for a while, till the sugar melts. Cook for 2 minutes after the sugar dissolves completely and comes to a boil.
Then turn off the flame when it becomes a syrup of one wire. Now add 8 coarsely crushed cardamom to it and mix it well, in this way sugar syrup will be ready.
Process of making Besan Barfi
Add sugar syrup to the roasted semolina-gram flour and mix it well. If it becomes too thin, then cook it on low-medium flame to thicken it slightly. Also, add roasted seeds (a little to be saved) and cook it for 5 minutes while stirring continuously.
Then take out this mixture in the greased tray and shake it to make it uniform. Garnish it with the remaining roasted seeds. Press them lightly with a spoon and set them. Now keep it outside to solidify for 1 hour.
After the time is over, put cut marks on it. Then keep it to solidify overnight. On the second day, separate its pieces, the special grainy besan barfi will be ready. Serve it and enjoy its taste.
Suggestions
Gram flour has to be roasted on low-medium flame.
After setting it completely, you can keep it outside and eat it for 1 month, and keep it in the fridge and eat it for 2 months.

Tags
Categories
Soft Besan Barfi Recipe
Nisha Madhulika
Rating:

5.00

out of

5