Instant Crispy Rava Dosa Recipe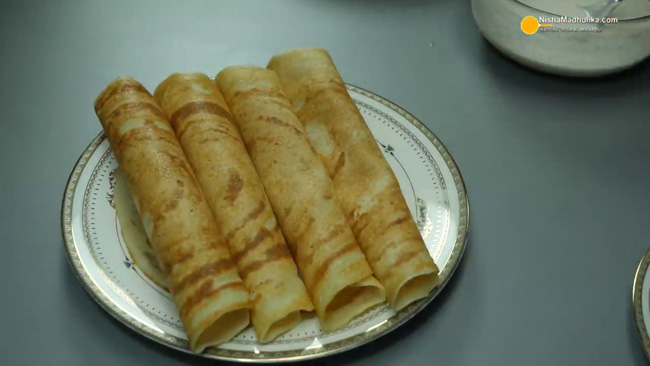 Today we are going to make crispy dosa made of semolina and wheat flour for a light breakfast. These will be ready in a jiffy with a very easy method. Anyone who eats them will not know that they are made of semolina. These are very tasty. So you too make crunchy dosa of semolina and wheat flour with this easy method and enjoy its taste with your family.
Ingredients for Instant Dosa
Semolina - 1 cup
Wheat Flour - ¼ cup
Curd - 1 cup
Salt - ¾ tsp
Baking Soda - ¼ tsp
Process of making Batter
Put 1 cup of finely ground semolina, ¼ cup of wheat flour, 1 cup of curd and ¾ tsp of salt in a bowl. Mix them well and add some water to it. The batter should be very smooth, as made for dosa. After making the batter, cover it and keep it for 15 minutes.
Process of making Dosa
If the batter seems too thick, then add some water and mix it well. Then add ¼ tsp of baking soda to it and mix it well. Now heat the tawa and spread oil on it. Then sprinkle water and wipe the tawa. Now spread the dosa by pouring the batter, then after increasing the flame, pour oil all around and let the dosa cook from the bottom till it turns golden brown.
When roasted from below, fold the dosa and take it off. Similarly, pouring water from the back and cooling the tawa, stir the batter once and spread it by pouring it on the pan. Roast it in the same way and take it off, if you want, you can also make masala dosa by keeping potato masala in the middle.
In this way crispy dosa of semolina and wheat flour will be ready. Serve them with green coriander chutney, peanut or coconut chutney and enjoy the taste with your family.
Suggestions
The consistency of the batter should neither be too thick nor too thin.
Every time while cooking dosa, sprinkle some water on the pan and wipe it before spreading the dosa.
Instant Crispy Rava Dosa Recipe

Tags
Categories
Instant Crispy Rava Dosa Recipe
Nisha Madhulika
Rating:

5.00

out of

5