Carrot Barfi Recipe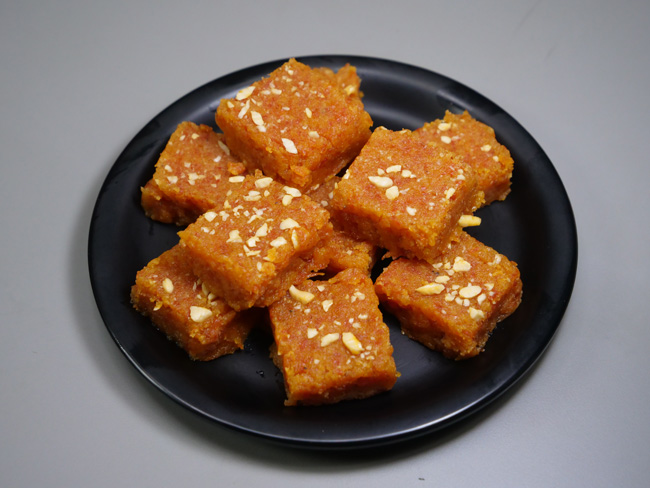 We make carrot halwa quite often, but today we are going to make carrot barfi. It is very easy to make and it is ready in a jiffy. Its shelf life is much longer than that of Gajar Ka Halwa. So with this easy recipe, this time instead of carrot halwa, make Gajar ki Barfi and enjoy its taste with your family.
Ingredients for Gajar Ki Burfi
Carrot - 600 grams
Ghee - 2 tbsp
Milk - 1 cup
Poha - 1 cup
Full Cream Milk - ½ litre
Sugar - 1 cup (200 grams)
Desiccated Coconut - ¼ cup
Almond Powder - ¼ cup
Cardamom - ¼ tsp
Ghee - 2 tbsp
Cashews - 2-3, crushed
Process of making Gajar ki Barfi
Peel 600 grams of carrots, wash them well and cut them in half. Grate them with a thin grater. Now heat the cooker, add grated carrots and 2 tbsp of ghee and fry for 2 minutes. Then put 1 cup of milk in it, close the cooker and cook it on high flame till one whistle.
After a whistle, reduce the flame to low and cook it for 5 minutes. Meanwhile, sieve 1 cup of poha by putting it in a sieve, then put it on a cloth and wipe it. Now put it in a mixer jar and make a fine powder. After making powder, filter it and if some coarse powder remains, then remove it.
After 5 minutes, turn off the flame and let the pressure of the cooker release. Meanwhile, put ½ litre of full cream milk in the pan and cook till it comes to a boil. Then cook it on high flame while stirring it for a while till the milk thickens. Meanwhile, open the cooker and check, there will be a lot of milk in it. Now burn the flame and cook it while stirring it for a while till the milk dries up.
When the milk thickens and the milk dries up from the carrot, add carrots to the milk and mix it. Cook it while stirring continuously till it becomes thick. When the mixture is about to thicken completely, add 1 cup of sugar and cook on medium flame, stirring continuously, until it thickens again.
When it becomes very thin, add ¼ cup of coconut powder and ¼ cup of almond powder and cook while mixing it. When it becomes thick, add ½ tsp of coarsely ground cardamom and mix it well and turn off the flame.
Grease the tray with ghee and put the mixture in it and make it uniform by pressing. Then garnish it with small pieces of cashew nuts. Press them lightly with a spoon and keep them for 1 hour to set.
After 1 hour they will be frozen, cut them into the size of your choice. Then light the flame and rotate the tray for 10-12 seconds. Now take out the barfi and serve it and enjoy its taste with your family.
Suggestions
You can keep the barfi in the fridge and eat it for 15-20 days.

Tags
Categories
Carrot Barfi Recipe
Nisha Madhulika
Rating:

5.00

out of

5