Crunchy and Spicy Stuffed Mirchi Masala Bonda Recipe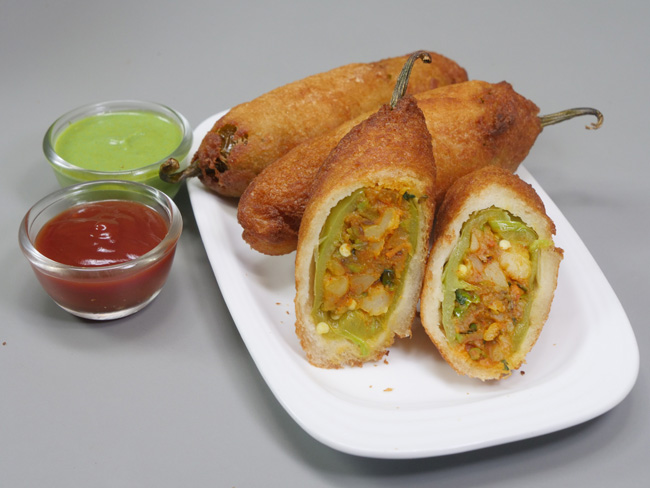 Everyone likes to eat Mirchi Vada, so today we are going to make Mirchi Masala Bonda. It is exactly like mirchi vada and a single mirchi bonda will fill your stomach. They are very spicy to eat and are ready in a jiffy. The special thing about them is that you can fill them and keep them for 2-4 hours or even overnight. When you have to serve them, fry it and serve it hot.
Ingredients for Mirchi Masala Bonda
Oil - 1 tbsp
Cumin Seeds - ½ tsp
Asafoetida - 1 pinch
Green Peas - ½ cup
Green Chilli - 2, finely chopped
Ginger Paste - 1 tsp
Coriander Powder - 1 tsp
Red Chilli Powder - 1 tsp
Turmeric powder - ¼ tsp
Boiled Potatoes - 4, Medium
Dry Mango Powder - ½ tsp
Salt - a little more than ½ tsp
Coriander Leaves
Big Green Chilli - 5
Oil - 1-1.5 tbsp
Bread Slice - 10
Oil for frying
Process of making Stuffing
Put 1 tbsp of oil in a pan and heat it. Put ½ tsp of cumin in hot oil and fry it lightly. Then put 1 pinch of asafoetida and ½ cup of peas in it and reduce the flame to very low. After stirring them well, add 1 tbsp of water and cover and cook on low-medium flame for 2-3 minutes.
After the time is up, they will start mashing, so mash them well. Then add 2 finely chopped green chillies, 1 tsp of ginger paste, 1 tsp of coriander powder, 1 tsp of red chilli powder and 1 tsp of turmeric. Mix them well, then add 4 mashed boiled potatoes, ½ tsp of dry mango powder, a little more than ½ tsp of salt and a little green coriander.
Fry them by mixing them well, break large pieces of potatoes and make them fine. Fry them well for 2-3 minutes, take them out and keep them and let them cool down.
Process of assembling Bonda
Wash and dry 5 big green chilies. Then cut them from one side, remember not to cut it completely, just open the chilli from one side. Remove some seeds from inside, if you like to eat more spicy then do not remove the seeds. Cut all the green chilies in the same way.
Heat 1-1.5 tbsp of oil in a pan. Put the chilies in hot oil and fry them lightly. They have to be roasted by rotating them for 1-1 minutes from all sides. They should turn light brown from all sides. After roasting, take them out and keep them to cool down.
When it cools down, take one chilli, press the stuffing in it and fill it as much as you can. After filling, press and close the chilli, as much as possible, there is no problem if it remains open a bit. Fill all the chilies in the same way.
Cut off the edges of two slices of bread, then apply water on the corner of the bread and place them one on top of the other, covering the edge lightly. Now apply water on them and roll them lightly, after rolling put a chilli on it diagonally and wrap it well with bread. Wrap all the chillies in the bread by cutting and sticking it in the same way. In this way, Mirchi Bonda will be assembled and ready.
Process of frying Mirchi Bonda
Heat oil in a pan, the oil should be medium hot and the flame should also be medium. Put two chilli bondas in hot oil carefully and let them fry for 1-1.5 minutes. After the time is up, fry them by rotating them till they turn golden brown from all sides.
After frying, take them out and fry the rest in the same way. In this way Mirchi Bonda will be ready. Serve them with green chutney and tomato sauce.
Suggestions
Fry Mirchi Bonda on medium flame only.
Crunchy and Spicy Stuffed Mirchi Masala Bonda Recipe

Tags
Categories
Crunchy and Spicy Stuffed Mirchi Masala Bonda Recipe
Nisha Madhulika
Rating:

5.00

out of

5