Crispy Paneer 65 Fry Restaurant Style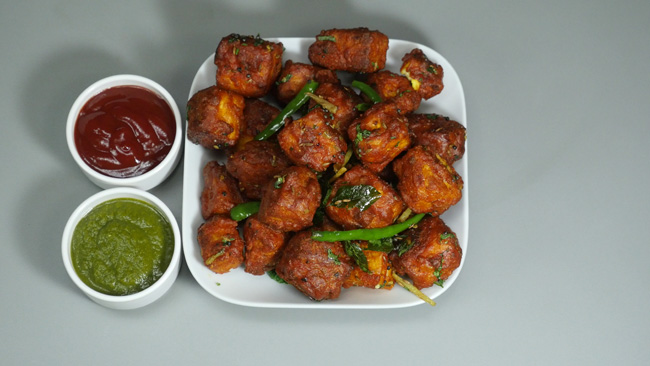 To make the snack time more fun, today we are going to make Paneer 65. These will be ready in a jiffy with a very easy method. It will turn out very tasty and crunchy. You can serve them as snacks as well as starters. So you too make Paneer 65 with this easy recipe and enjoy its taste with your family.
Ingredients for Paneer 65
Paneer - 400 grams
Salt - ¾ tsp
Coriander Powder - 1 tsp
Kashmiri Red Chilli - 2 tsp
Turmeric Powder - ½ tsp
Black Pepper - ½ tsp
Cumin Powder - ½ tsp
Refined Flour - 2 tbsp
Corn Flour - 2 tbsp
Lemon Juice - 2 tsp
Ginger Chilli Paste - 2 tsp
Oil - 2 tsp
Mustard Seeds - ½ tsp
Cumin Seeds - ½ tsp
Curry Leaves - 15-20
Ginger Julienne - 10-15
Green Chilli - 4-5, Sliced
Process of preparing spices for Paneer 65
Cut 2 packs (400 grams) of paneer into medium size and keep them in a plate. Now put ¾ tsp of salt, 1 tsp of coriander powder, 2 tsp of kashmiri red chilli powder, ½ tsp of turmeric powder, ½ tsp of freshly crushed black pepper, ½ tsp of cumin powder, 2 tbsp of all purpose flour and 2 tbsp of cornflour in a bowl.
Mix them well and add pieces of paneer to it and mix them with light hands. Then add 2 tsp of lemon juice, 2 tsp of ginger green chilli paste to it. Mix them well, add 2-3 tbsp of water and mix them well.
Process of frying Paneer 65
Heat oil in a pan, oil should be medium-high hot and the flame should also be medium-high. Put as many pieces of paneer as you can in hot oil and let it fry for 3-4 minutes. After the time is up, fry them till they turn golden brown from all sides. After frying, take them out and fry the rest in the same way.
Process of making Tadka
Put 2 tsp of oil in a pan and heat it. Add ½ tsp of mustard seeds and ½ tsp of cumin seeds and fry in hot oil. After roasting, add ginger julienne and 4-5 green chilies cut lengthwise and fry lightly. After roasting, add fried paneer 65 and fry it while mixing it well.
After mixing, add a little salt and a little green coriander and mix it. Turn off the flame and mix them once again and take them out. In this way paneer 65 will be ready. Serve them with green chutney and tomato sauce and enjoy their taste.
Suggestions
After mixing the spices and paneer, measure the water and add only 2-3 tablespoons.
The flame should be medium-high while frying the paneer and the oil should also be medium-high hot.
Crispy Paneer 65 Fry Restaurant Style

Tags
Categories
Crispy Paneer 65 Fry Restaurant Style
Nisha Madhulika
Rating:

5.00

out of

5