How to make Crispy Potato 65 in Spicy Sauce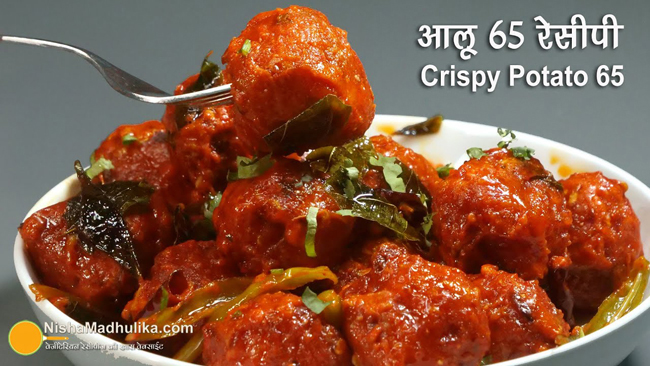 Crispy and spicy potatoes 65 are very much liked by children and you can make them for breakfast. Or serve them as a starter on a festive day, the taste of homemade is different. Enjoy the taste yourself and pass it on to your guests too. With a very easy method, this dish is ready in no time, make it and enhance the beauty of your party.
Ingredients for Potato 65
For Balls
Potato - 4 (400 g)
Refined Flour - 2 tbsp
Corn Flour - 2 tsp
Salt - 1 tsp
Red Chilli - 1 tsp
Curry Leaves - 20-25
Oil for frying
For Sauce
Curd - ¼ cup
Red Chilli Powder - ¼ tsp
Corn Flour - 1 tsp
Oil - 2 tbsp
Green Chilli - 3-4
Red Chilli - 3 broken
Curry Leaves - 20-25
Salt - ¼ tsp
Coriander Leaves - 2 tbsp
Process of making balls
Peel four potatoes and grate them. While grating, put water in the bowl in which the potatoes are being grated so that the potatoes do not turn black. After grating, wash the potatoes well with water and squeeze them well in another bowl and drain all the water.
Add 4 tbsp of all purpose flour, 4 tbsp of cornflour, ½ tsp of ginger paste, ½ tsp of salt, 1 tsp of red chilli powder and 20-25 finely chopped curry leaves to the grated potatoes. Now mix them well and knead it well like a dough. Take a little mixture and round it and keep it in a plate, similarly make all the balls.
Process of frying potato balls 65
Heat oil in a pan, the flame should be medium and the oil should be medium-high hot. When the oil is hot, put the prepared potato balls in it, as many as can be put in the pan. Remember, they have to be put a little far away so that they do not stick. Now fry them for 2 minutes, then stir them and fry them till they become golden brown. Fry all the balls in the same way.
Process of coating balls and making Aloo 65
In a bowl add ½ cup of curd, 1 tsp of red chilli and 1 tsp of cornflour and mix well. Now put 2 tbsp of oil in a pan and heat it. Then add 1 tsp of ginger paste, 3-4 long chopped green chilies, 2-3 red chilies (broken and put) and 20-25 curry leaves and fry them lightly. Then add spiced curd and ¼ tsp of salt and mix it well.
Then add 1-2 tbsp of water and fry it well till it leaves oil. After roasting, put the balls in it and mix it well. Now turn off the gas after coating the sauce well on the balls, crispy and spicy potatoes 65 will be ready, garnish them with green coriander and serve them and enjoy their taste.
Suggestions
When the potatoes are being grated and washed, squeeze them well and take out all the water from them.
After putting the balls for frying, do not touch at all for 2-3 minutes, let them fry like this.
How to make Crispy Potato 65 in Spicy Sauce

Tags
Categories
How to make Crispy Potato 65 in Spicy Sauce
Nisha Madhulika
Rating:

5.00

out of

5