Street Style Crispy Aloo Tikki with stuffed Matar Paneer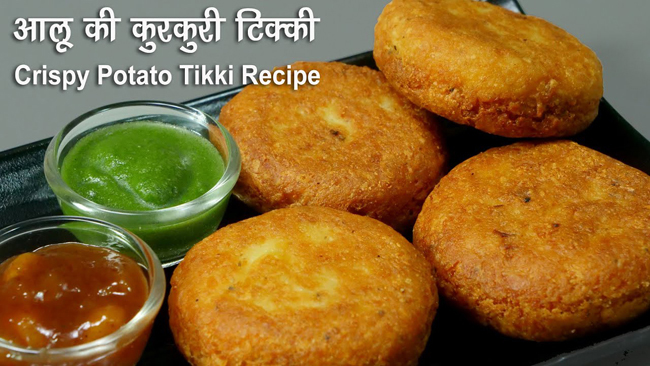 Aloo tikki is added to many street foods, but in many cases, only potato tikki with green chutney looks delicious. So for this taste today we are going to make crispy potato tikkis as well as delicious peas and paneer stuffing inside it. It will neither take much time nor much effort to make them. By making them one turn, you will feel like making them again and again and after eating them, only yummy will come out of the mouth.
Ingredients for Aloo Tikki
For Tikki
Potato - 7 boiled (600 grams)
Salt - 1 tsp
Black Pepper - ½ tsp, grounded
Rice Flour - 5 tbsp
Gram Flour - 2 tbsp
Oil - 1 tbsp
For Stuffing
Oil - 1 tbsp
Ginger - ½ tsp, grated
Green Chilli - 2 finely chopped
Peas - ¾ cup
Salt - ½ tsp
Red Chilli - ½ tsp, grounded
Paneer - 60 grams grated
Garam Masala - ¼ tsp
Dry Mango Powder - ½ tsp
Coriander Leaves - 2-3 tsp
Process of making dough for Tikki
Peel 7 boiled potatoes and grate them. After grating, add 1 tsp of salt, ½ tsp of ground black pepper, 5 tbsp of rice flour, 2 tbsp of gram flour and 1 tbsp of oil. Now make the dough by mixing them, potato dough will be ready for tikki.
Process of making Stuffing
Put 1 tbsp of oil in a pan and heat it. When the oil is hot, add ½ tsp of grated ginger, 2 finely chopped green chillies, ¾ cup of peas, ½ tsp of salt or as per taste and ½ tsp of crushed red chilli and mix well. Then add 2-3 tbsp of water to it, cover and cook for 2-3 minutes on medium flame. After the time is up, check the peas, when they are slightly soft, open it and cook for a while till the water burns, turn off the flame.
Now add 60 grams of grated paneer, ¼ tsp of garam masala, ½ tsp of dry mango powder and 2-3 tsp of green coriander and mix it well. Then take it out in a bowl and cool it. After cooling, mash the peas a little and mix, the stuffing will be ready.
Process of assembling Tikki
Take a little oil on your hand and take out as much dough as you want to make small or big tikkis. Now spread the dough on the hand and give it the shape of a bowl. Keep 2 spoons of stuffing in the middle, close the dough and make it round. Make a round and flatten it a little and give it the shape of a tikki. Similarly prepare all the tikkis.
Process of frying Tikki
Put about ½ cup of oil in the pan, remember tikkis have to be shallow fried and not deep fried. After heating the oil (the oil should be medium hot and the flame should be low-medium) put the tikkis in it. Now fry them for 4 minutes, after the time is up, turn them over and increase the flame slightly and fry them from both the sides till they turn golden brown. After roasting them well, take them out and make the rest in the same way. Crispy tikkis will be ready, serve them with green chutney and enjoy their taste.
Suggestions
While making potato dough for tikki, definitely add gram flour and rice flour to it, it makes the tikki crispy.
Instead of peas's stuffing, you can also make gram dal's stuffing.
You can take less oil while frying because tikki is shallow fry not deep fry.
While frying the tikkis, keep the flame low-medium as it will fry the tikkis well from the inside.
Street Style Crispy Aloo Tikki with stuffed Matar Paneer

Tags
Categories
Street Style Crispy Aloo Tikki with stuffed Matar Paneer
Nisha Madhulika
Rating:

5.00

out of

5