Mumbai Style Instant Tawa Pulao Recipe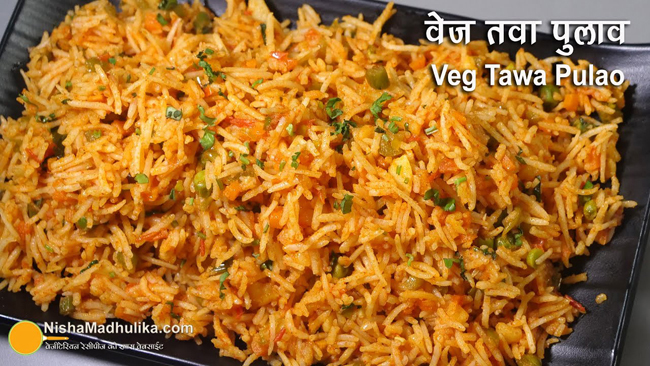 Pulao is the most commonly prepared dish in Indian households. There are many ways to make it and it is famous in many corners of India in different tastes and ways. Today we are going to make Mumbai's famous street food Tawa Pulao. Give it a special taste with Maggi's Masala-e-Magic. It is very easy to make and will be ready in a jiffy. Its taste will also be amazing, so much so that you will like to make it again and again.
Ingredients for Veg Tawa Rice
Basmati Rice - 1 cup (200 grams)
Oil - 1 tsp
Salt - 1 tsp
Oil - 2 tbsp
Butter - 1 tbsp
Ginger - ½ inch, finely chopped
Green Chilli - 2
Carrots - ¼ cup
Capsicum - ¼ cup
Beans - 8-10
Tomato - 3 (250 g)
Salt - ½ tsp
Peas - ¼ cup
Potato - 2 boiled (200 g)
Red Chilli Powder - 1 tsp
Tomato Sauce - 2 tbsp
Process of cooking Rice
Put 4 cups of water, 1 tsp of salt and 1 tsp of oil in a vessel (this will prevent the rice from sticking and they will bloom) and cook till it comes to a boil. When it comes to a boil, add 1 cup of rice (wash them and soak them in water for 20 minutes). Now cover and cook the rice for 5 minutes, remember that the lid is not to be covered completely, keep it slightly open.
After the time is up, see them, if they are not cooked, then stir them once and cover them again for 2 minutes. Now look at them from the back, if they are pressed well, then turn off the flame and filter them. After filtering the rice well, spread it in a tray so that it cools down quickly and does not cook any more with steam.
Process of making Masala and Sabzi for Pulao
Because we do not have such a big tawa in our homes, put 2 tbsp of oil and 1 tbsp of butter in a plain bottom pan and heat them. After it becomes hot, add finely chopped ½ inch of ginger and 2 finely chopped green chilies and fry them lightly.
Now add ¼ cup of small chopped carrots, ¼ cup of finely chopped capsicum, 8-10 beans cut into small pieces, 3 tomatoes (seeds removed and finely chopped) and ¼ tsp of salt and cook on high flame for 2 minutes. When the time is up, mash the ripe tomatoes and add ¼ cup of boiled peas and 2 boiled potatoes cut into small pieces. Now cook them while mashing them with a masher, remember not to mash too much, just finely chop them.
Now add 1 tsp of kashmiri red chilli and 2 tbsp of tomato sauce and mix it well. Now put a sachet of Maggi Masala-e-Magic in it, mix it well, add rice to it and mix them with light hands. Put some green coriander and keep mixing them well with light hands till a good coat of spices comes on the rice. After mixing well, Tawa Pulao will be ready, serve it and enjoy its taste.
Suggestions
Cook the rice after cooling it and put it in the vegetable, otherwise it will stick.
Mumbai Style Instant Tawa Pulao Recipe

Tags
Categories
Mumbai Style Instant Tawa Pulao Recipe
Nisha Madhulika
Rating:

5.00

out of

5