Veg Kabab Paratha Roll in Lucknow Street Food Style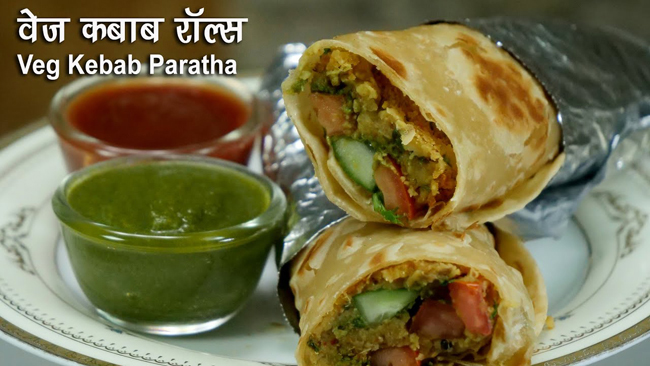 The food of Lucknow is the most famous in the world. Today we are going to make one of those famous dishes, Veg Kabab Paratha Roll. You will prepare a delicious roll wrapped in soft and spicy chana dal cutlets and chutney parathas. The method of making it is very easy and this roll is so heavy that your stomach will be filled with just one.
Ingredients for Veg Kabab Paratha Rolls
For Veg Kabab
Chana Dal - 1 cup (to be soaked in water for 2 hours)
Cinnamon - 1 inch
Nutmeg - 1 small, size of a gram dal
Clove - 3
Black pepper - 10-12
Black Cardamom - 1
Cumin Seeds - ½ tsp
Salt - ½ tsp
Ginger - 1 tsp
Green Chilli - 2 finely chopped
Coriander Powder - 1 tsp
Fennel Seeds - ½ tsp
Red Chilli - ½ tsp
Dry Mango Powder - ¼ tsp
Corn Flour - 2 tsp
Coriander Leaves - ½ tbsp
Oil - 3 tbsp
For Paratha
Wheat Flour - 1 cup
Refined Flour - 1 cup
Oil - 2 tsp
Process of making Kabab
Put 1 cup of soaked chana dal, 1 inch of cinnamon, 1 small gram dal-like nutmeg, 3 cloves, 10-12 black peppers, 1 large cardamom peeled, ½ tsp of cumin and ½ tsp of salt. Then add ½ cup of water and mix it and cook on high flame till one whistle comes. After a whistle, reduce the flame to low and cook it for 2 minutes.
When the time is up, take out the pressure from the cooker, take out the dal in a bowl and cool it, as well as remove the cinnamon from it. Now when it cools down, put boiled lentils, 1 tsp of grated ginger, 2 small finely chopped green chillies, 1 tsp of coriander powder, ½ tsp of fennel powder, ½ tsp of red chilli and ¼ tsp of dry mango powder in a mixer jar. Grind them coarsely and take them out in a bowl.
Now add 2 tsp of cornflour and 1 tbsp of green coriander and mix it well. Kebab dough will be ready. Take some oil on hand and make it in the shape of a tikki. Make all the kebabs in the same way. Now put 2-3 tbsp of oil in a pan and heat it. Remember the oil should be medium hot for frying the kebabs.
Put the kebabs in the oil and fry for 5 to 5 minutes from both the sides till they turn brown. Fry all the kebabs in the same way and the kebabs will be ready.
Process of making dough for Paratha
Take 1 cup of wheat flour in a bowl and take 1 cup of all purpose flour, then add ½ tsp of salt and 2 tsp of oil. Now mix them well and add water little by little and knead it and make a soft dough. The dough is ready, now cover it and keep it for 20 minutes.
Process of making Paratha
Take a little oil on your hand and mash the dough lightly. Now break a little dough and make a ball. Roll it thin by wrapping it in dry flour, it has to be rolled long and thin. Now heat a tawa and spread some oil on it. Then put the rolled paratha on it, apply a little oil on both the sides and cook it till it becomes light brown. Prepare all the parathas in the same way.
Process of assembling Roll
Slightly break two kebabs over the paratha. Put some chutney on them and put tomato and cucumber slices on it. Then put some chaat masala and some green coriander on top and roll it. Similarly make all the rolls, veg kabab paratha rolls will be ready. If you want, you can also serve paratha with kebabs, green chutney and tomato ketchup separately.
Suggestions
The paratha has to be rolled thin.
While frying the kebabs, it has to be given 5 minutes so that it can fry well from the inside.
Veg Kabab Paratha Roll in Lucknow Street Food Style

Tags
Categories
Veg Kabab Paratha Roll in Lucknow Street Food Style
Nisha Madhulika
Rating:

5.00

out of

5