Crispy Mixed flour Nimki mathri with Atta-Sooji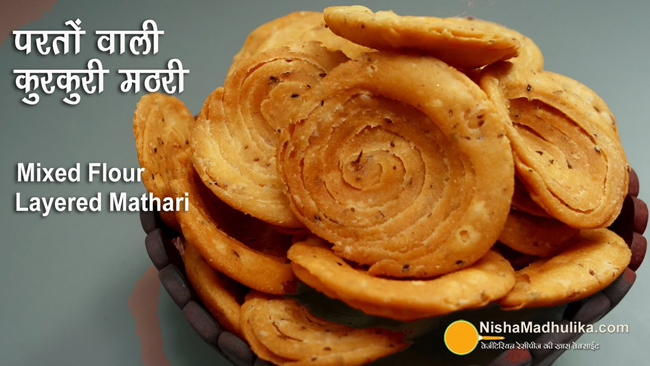 The combination of mathri with tea is very good. Especially when you are out on a journey, then the breakfast of Chai Mathri is different in the morning. To make it more fun and healthy, today we are going to make Namkeen Crispy Mathri. Mango mathri is made of all purpose flour, it is crispy but thick in the middle. We will also add flour and semolina to the mathri and prepare it by making very soft and crispy mathris.
Ingredients for Crispy Multi Flour Mathri
Wheat Flour - 1 cup (150 grams)
Refined Flour - 1 cup (150 grams)
Semolina - ½ cup ( 50 grams)
Oil - ¼ cup (50 ml)
Carom seeds - ½ tsp
Cumin seeds - ½ tsp
Black pepper - ½ tsp grounded
Kalonji - 1 tsp
Kasuri Methi - 1 tbsp
Salt - ¾ tsp
Ghee - 2 tsp
Refined Flour - 2 tbsp
Oil for frying
Process of making dough for Mathri
In a bowl take 1 cup of wheat flour, 1 cup of all purpose flour, ¼ cup of semolina, ¼ cup of oil, ¾ tsp of salt, ½ tsp of cumin, ½ tsp of carom seeds (crush and put it in), 1 tbsp of dry fenugreek (crush it and put it in), ½ tsp of kalonji and ½ tsp of ground black pepper. Now add water little by little by mixing them well and kneading a hard dough. The dough will be ready, cover it and keep it for half an hour.
Process of making Saata
Put 2 tbsp of all purpose flour in 2 tsp of ghee. Mix them very well, after mixing a creamy mixture will be formed, in this way Saata will be ready.
Process of making Mathri
Knead the dough lightly and make big balls. Now roll a dough thin and square, roll it as thin as a roti. Keeping it on the side, roll the other in the same way. Now put a little saata on it and apply a thin layer, then cover it with another puri. Apply a thin layer of saata on top of the other poori by pressing it well.
After applying saata well, fold them and make rolls, remember that they have to be folded by pressing because there should not be a slight space in the middle. After this, press it well and give it the shape of a roll. Then cut it with the help of a knife, about ½ cm thick. Now take a ball and roll it thin by pressing it from the middle. Similarly roll all the balls.
Process of frying Mathri
Heat oil in a pan, remember that for frying mathris, the oil should be less than medium and the flame should be low-medium. When the oil is hot, put puri in it and fry it. Add as many as comes at a time and fry on low flame for 2-3 minutes. When they float on top, fry them while stirring them till they turn golden brown from both the sides. Fry all mathris in the same way, mathris will be ready.
Suggestions
The layer of Santa has to be spread thin.
Keep the flame low-medium while frying mathris.
Crispy Mixed flour Nimki mathri with Atta-Sooji

Tags
Categories
Crispy Mixed flour Nimki mathri with Atta-Sooji
Nisha Madhulika
Rating:

5.00

out of

5