Diwali Special Recipe Adhirasam-Anarsa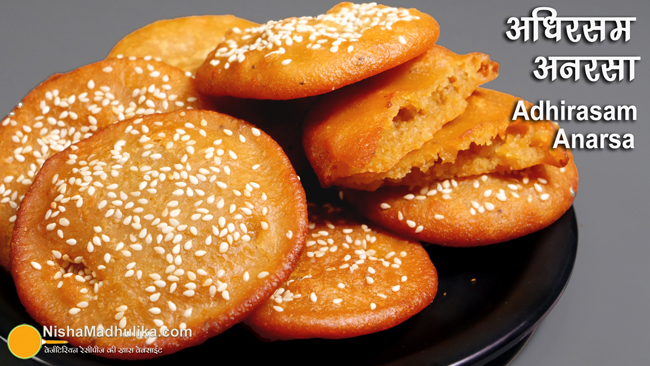 On this special occasion of Deepawali, most of the sweets are prepared and served to the guests. Today we are going to make a special sweet of South India 'Anarse' on the occasion of this festival. These are also called adhirasam, they are very tasty and are absolutely crunchy. Today we will make both plain and sesame seeds anarsa. This is a very easy recipe, you will love making it in every festival.
Ingredients for Adhirasam-Anarsa
Rice - 1 cup ( 200 grams)
Jaggery - ½ cup (125 grams)
Cardamom - 4, grounded
Ghee - 1 tsp
Sesame Seeds - 1 tbsp
Ghee for frying
Process of making rice flour for Anarsa
In a bowl, wash 1 cup (200 grams) of raw rice twice in water and soak it overnight. In the morning, after filtering their water, spread this rice on a tray by spreading a cloth on it. Then dry them for 40 minutes, remember not to dry them for long.
After drying, grind the rice finely in a mixer jar. After grinding, sieve this flour through a sieve and take it out in a bowl. By sifting the little bit that will remain thick, it will come out because the flour should be completely powdered. In this way rice flour for Anarsa will be ready.
Process of making sugar syrup
Put ½ cup (125 grams) of jaggery and ¼ cup of water in a pan and cook on low-medium flame till the jaggery dissolves in water. Cook it for a while, while stirring it till it becomes thick. Cook it till the wire is formed and then turn off the flame. In this way the syrup will be ready, let it cool down.
Process of making dough for Anarsa
When the syrup cools down slightly, sieve the sugar syrup in the rice flour. Remember, the syrup has to be filtered only, if there are any impurities in the jaggery, it will come out. Now mix them well by crushing 4 small cardamom in this mixture and adding 1 tsp of ghee and mix it well. In this way, the dough will be ready for making anarsa, cover it overnight or for 5-6 hours.
Process of making Anarsa
After the time is up, break the dough little by little and make small balls. Put some ghee on a butter paper and make a ball, round it and keep it on it and press it lightly and increase it. The puri should neither be too thick nor too thin. Now heat ghee in a pan, the ghee should be medium hot and the flame should also be low-medium.
When the ghee is hot, put a poori in it and cook it till it floats up. When the anarsa floats up, flip it and fry it till it becomes light pink from both the sides. Take out the anarsa and take out the ghee by pressing it lightly with the help of a ladle and a large spoon or spatula. In this way the anarsa will be ready, prepare all the anarsa in the same way.
To make Sesame Anarsa, make a round ball and place it on a butter paper. Now enlarge it a little, put some sesame seeds on it and press it to increase it. Now fry it in the same way as Anarsa was fried earlier.
Fry anarse in any way you want. Anarsa will be ready, you can eat it by keeping it in the fridge for 6-7 days.
Suggestions
Do not dry the rice for a long time, otherwise it will take more time to grind.
While sifting the rice flour, sieve it in a fine sieve, because the flour should be fine.
Anarsa dough should be well made, its shape should be good and should not be torn from the edges.
Make sure to check the oil if it is medium hot, then fry the anarse.
Diwali Special Recipe Adhirasam-Anarsa

Tags
Categories
Diwali Special Recipe Adhirasam-Anarsa
Nisha Madhulika
Rating:

5.00

out of

5