Til Mawa Burfi Winter Special Recipe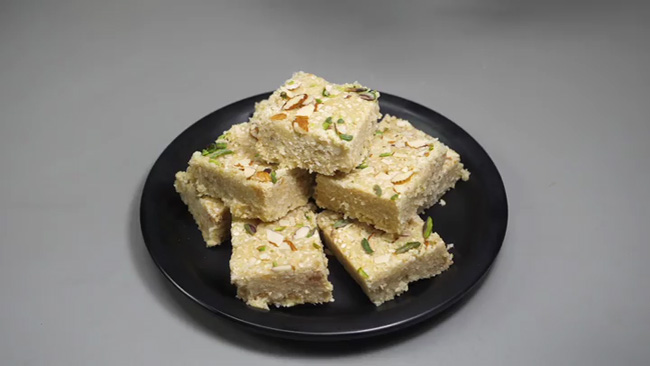 Sesame seeds and Mawa are very beneficial in winter, so today we are going to make Til Mawa ki Barfi. It will be ready with very few ingredients. It is also so easy to make that if someone is going to the kitchen for the first time, they will also prepare very tasty barfi. So you too make Til Mawa Ki Barfi with this easy recipe and enjoy its sweet taste with your family.
Ingredients for Til Mawa Burfi
Sesame Seeds - 2 cup (250 grams)
Mawa - 1.5 cup (300 grams)
Sugar Powder - 1.5 cup (250 grams)
Cardamom - 8, coarsely grounded
Ghee - 1 teaspoon
Almond Flakes
Pistachio Flakes
Process of making Til Mawa Burfi
Heat the pan, add 2 cups of sesame seeds and fry it on medium flame while stirring continuously. Roast them till they puff up and change color. After roasting, take it out and cool it by stirring lightly in a bowl. When it cools down, put the roasted sesame seeds in a mixer jar, save ¼ cup of whole sesame seeds. Grind them coarsely and take them out.
Now clean the same pan and put 1.5 cups of mawa in it. Fry it on medium flame till the mawa leaves ghee, stir it continuously. When the mawa starts leaving the ghee and slightly changes its color, reduce the flame completely. Then add 1.5 cups of sugar powder to it. Fry it till the sugar mixes well and melts.
When sugar completely dissolves in mawa, add roasted ground sesame seeds and the saved whole sesame seeds to it. You have to keep mixing it too, otherwise mawa may burn from below. Mix it by adding 8 coarsely crushed small cardamom and 1 tsp ghee and mix it.
Mix everything well and turn off the flame, then grease a tray with ghee. Put this mixture in a tray and press it evenly with a spoon. Then put some almond flakes and some pistachio flakes on it and press lightly with a spoon.
Now keep it to freeze for 1 hour. After setting, cut the pieces as you want to. In this way, Til Mawa ki Barfi will be ready.
Suggestions
While roasting sesame seeds, keep in mind that they should not be fried too much. Just fry till it changes color and till the sesame seeds become slightly puffed.
Roast the mawa on medium flame while stirring continuously, till it leaves the oil and changes its color.
Til Mawa Burfi Winter Special Recipe

Tags
Categories
Til Mawa Burfi Winter Special Recipe
Nisha Madhulika
Rating:

5.00

out of

5