Special Besan Barfi Recipe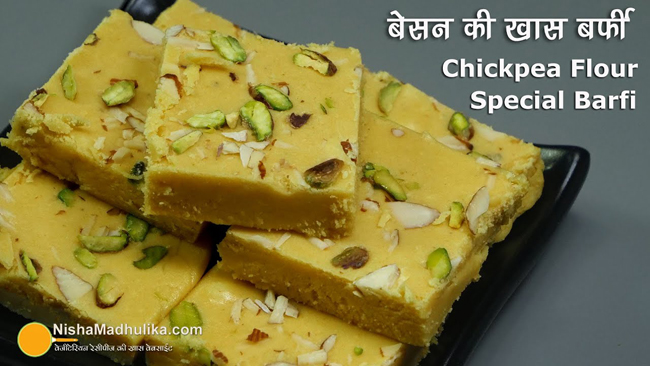 Besan barfi gives a different taste. It is specially made during festivals. Today we will make it with a special method, so that it will give a completely different taste than plain gram flour barfi. You can also make it on festivals and if you ever feel like eating something sweet like this, you can also make it. The method of making it is very easy and it will be ready in a jiffy.
Ingredients for Besan Special Barfi
Desi Ghee - ¾ cup (150 ml)
Chickpea Flour - 1.5 cups (190 grams)
Milk Powder - ¾ cup (75 grams)
Sugar - 1 cup (200 grams)
Cardamom - 4, coarsely ground
Almond Flakes - 1 tbsp
Pistachio Flakes - 1 tbsp
Process of making batter for Barfi
Put ¾ cup of desi ghee in the pan and heat it, the flame will remain medium. When the ghee melts, add 1.5 cups of gram flour and fry it while stirring continuously. Fry it till the color changes slightly and the aroma comes. Then turn off the flame and cool it while running.
When it cools down, add ¾ cup of milk powder little by little so that it doesn't get lumpy. After mixing it well, keep it for some time.
Process of making Chashni
Put 1 cup of sugar and ½ cup of water in the pan and cook it while stirring for a while till the sugar dissolves. Once the sugar dissolves, cook it till a string syrup is formed. Drop the sugar syrup from a spoon, when a wire comes while the last drop falls, the syrup will be ready.
Process of making Besan Barfi
When sugar syrup is made, add milk powder and gram flour dough and mix it well. After stirring continuously, add 4 small coarsely grounded cardamoms to it, then mix it well. Keep it after mixing, then put ghee in a tray and grease it well.
Now put the mixture in the tray and make it even with the help of a spoon. Then garnish it with some almond flakes and some thinly sliced ​​pistachios. Now press them in a little with a spoon and keep them in the fridge for 2 hours.
When the time is up, the barfi will have frozen well, cut the pieces according to you. Then after rotating the tray slightly over the flame for 10 seconds, take out the pieces in a plate and serve. In this way special gram flour barfi will be ready, enjoy its taste.
Suggestions
While roasting gram flour, keep the flame medium and low-medium.
Mix milk powder little by little in the gram flour.
Make a one wire syrup.
This barfi can be made and kept outside in an airtight container and eaten for 15 days.

Tags
Categories
Special Besan Barfi Recipe
Nisha Madhulika
Rating:

5.00

out of

5