Bakery style Dilpasand without oven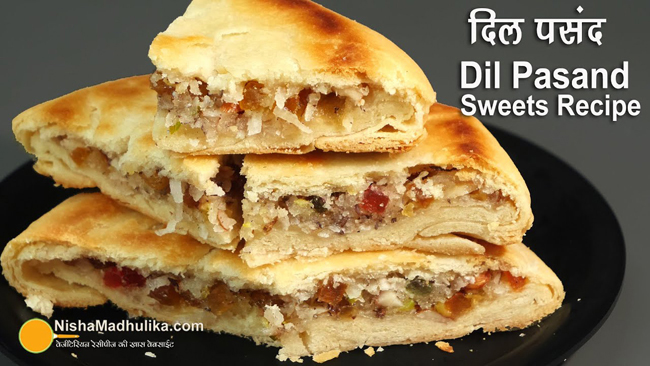 Dilpasand, it is also called Dilkhush. This is the Indian version of fruit pie, it is made by filling it with coconut and dry fruits. We will make it without an oven and you can store it for some time also. You can eat it as a delicious snack for guests or even for yourself.
Ingredients for Dilpasand
For Dough
Refined Flour - 1 cup (130 grams)
Salt - ¼ tsp
Baking Powder - ½ tsp
Ghee - 1 tbsp
For Layers
Ghee - 1.5 tbsp
Refined Flour - 1.5 tbsp
For Stuffing
Coconut - ½ cup grated
Tooti Frooti - ¼ cup
Almond Flakes - 1 tbsp
Pista Flakes - 1 tbsp
Raisin - 1 tbsp
Cardamom - 4 ground
Sugar Powder - 6 tbsp
Ghee - 1 tbsp
Process of making dough for Dilpasand
In a bowl add 1 cup of all purpose flour, ¼ tsp salt, ½ tsp of baking powder (this will make the dilpasand very crispy and crunchy) and 1 tbsp of ghee (do not add oil otherwise the taste of dilpasand may be spoiled). Now mix them well and knead by adding water little by little, remember the dough should be a little hard. After making the dough, keep it covered for half an hour.
Process of making Stuffing
In a bowl take ½ cup of grated dry coconut, ¼ cup of tutti frutti, 1 tbsp of almond flakes, 1 tbsp of pistachio flakes, 1 tbsp of raisins, 4 small cardamoms (fresh cardamom has to be crushed) and 6 tbsp of sugar powder (you can add more or less as per your choice) and mix the whole mixture well. After this, add 1 tbsp of ghee to this mixture and mix it well, in this way the stuffing will be ready.
Process of making Dilpasand
Mash the dough well and make two balls. Make a ball big and a little smaller than that and round them and make a peda. Now roll the small ball thin, remember to roll it thin and big. After rolling it well, put 2 tsp of ghee in it and spread it all around. After ghee, add 2 tsp of all purpose flour and spread it well all around. Now roll the poori and make it the same length. Then wrap the poori in a round shape and prepare a ball, by doing this layers are made in it. Roll out the big ball in the same way and keep it in a round shape by wrapping it in a round shape.
Now take small poori and keep it in a plate by rolling it without making it too big. Roll out the big one in the same way, but roll it a little bigger. Place the stuffing on top of the big poori and set it in the middle of the circle. After setting, cover the stuffing with small puri and close it well. After doing this, put plates at a little distance from the remaining part of the big poori and close it by sticking it well. After closing it well, give a round shape by pressing it with your hand.
Process of baking in a pan
For baking, grease a plate with a little ghee. Put the Dilpasand on a plate with the closed side facing down and apply some ghee on top. To bake, put salt in a big pan, so that the plate is kept well on it. Adding salt maintains a uniform temperature in the pan, which makes it easier to bake. When the pan is heated well, keep the plate directly on top of the salt and cover it. Cook it on medium flame for 15-20 minutes.
Check it when the time is up, when it is golden brown from the bottom side, turn it over and cover it with a little ghee on both the sides and cook it for 15 minutes. Turn off the gas after it turns golden brown from both the sides, delicious dilpasand will be ready. Now take it out on a plate and serve it after it cools down slightly and enjoy its taste.
Suggestions
Keep the dough of Dilpasand hard.
Keep the flame low-medium while making Dilpasand.
Make sure to check it after 20-25 minutes or else it may burn.
You can also add dry fruits of your choice in stuffing.
You can eat Dilpasand outside for 7 days and keep it inside the fridge for 15 days.
Bakery style Dilpasand without oven

Tags
Categories
Bakery style Dilpasand without oven
Nisha Madhulika
Rating:

5.00

out of

5