Fried Masala Dhokla without Eno or Curd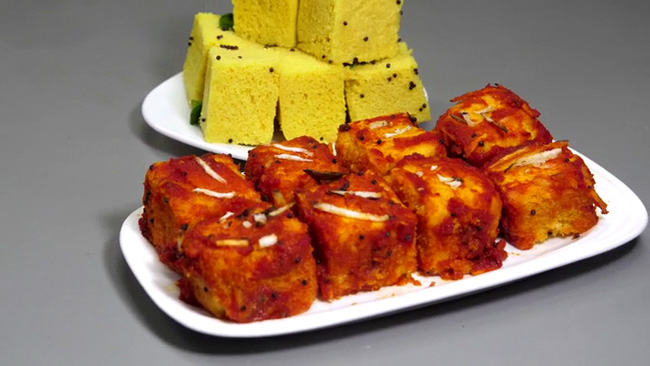 Today we are going to make Fried Masala Dhokla for any festive occasion or any happy occasion. The method of making it is very easy and does not require much ingredients. So you also make this dish with this easy method and make your guests happy by tasting it.
Ingredients for Masala Dhokla
Gram Flour - 1 cup (125 grams)
Sugar - 1 tbsp
Salt - ¾ tsp
Turmeric Powder - 1 pinch
Oil - 1 tbsp
Lemon Juice - 2 tbsp
Baking Soda - ¼ tsp
For Tadka
Oil - 1 tsp
Mustard Seeds -¼ tsp
Sugar - 1 tbsp
For Masala
Oil - 1 tbsp
Mustard Seeds - ¼ tsp
Curry Leaves - 10-12 tsp
Tomato - 2
Ginger - 1 inch
Green Chilli - 1
Salt - ¾ tsp
Kashmiri Red Chilli - 1 tsp
Tomato Sauce - 4 tbsp
Fresh Coconut - 1 tbsp, grated
Process of making Batter
Make a batter by adding 1 cup of gram flour (125 grams) and little by little water in a bowl that is neither too thin nor too thick. First add some water so that the lumps are eliminated, then add more water to make a solution. Once the batter is formed, add 1 tbsp of sugar, ¾ tsp of salt, 1 pinch of turmeric, 1 tbsp of oil and the juice of 2 lemons. Mix them well and beat them till the sugar dissolves completely. Then cover it and keep it for 15-20 minutes.
Process of steaming Dhokla
Put butter paper in a container and grease it with oil. Then add ¼ tsp of baking soda to the batter and beat the batter a little while mixing it well, remember not to beat too much, just till the batter becomes bloated. Then pour the batter into the container and make it even by tapping the container.
Put 2.5-3 cups of water in a vessel and keep a stand in it on which the container can be kept. When the water starts boiling, keep the container in a vessel, cover it and let it steam on high flame. When the lid of the vessel starts bouncing and steam starts to build up inside the vessel, then steam it by reducing the flame to medium. Remember Dhokla just has to be steamed for 20 minutes and the flame has to be reduced in the meantime.
When the time is up, switch off the flame and check with the help of a knife, if the knife comes out clean then Dhokla is ready. Take it out and cool it.
Process of making Normal Dhokla
After cooling, remove the edges of the dhokla from the container with the help of a knife. Then turn the container upside down and take it out in a dhokla plate. Cut Dhokla into pieces, then keep the cut part on top.
Now put 1 tsp of oil in a tadka pan and heat it. Put ¼ tsp of mustard seeds in hot oil and let it crackle. After cracking, add ½ cup of water and 1 tbsp of sugar and cook till the sugar dissolves. After the sugar dissolves, turn off the flame and pour a little water tadka over the dhokla. In this way plain dhokla will be ready.
Process of making Masala Dhokla
Put 1 tbsp of oil in a pan and heat it. Put ¼ tsp of mustard seeds in hot oil and let it crackle. After cracking, add 10-12 curry leaves and fry them lightly. Then add tomato-green chilli-ginger paste (2 tomatoes, 1 green chilli and 1 inch of ginger) and cook it on low-medium flame while stirring it for a while.
When the spices become slightly thick, add ¾ tsp of salt and 1 tsp of kashmiri red chilli and mix it. Fry till the spices thicken completely, then add 4 tbsp of tomato sauce and 1 tbsp of fresh grated coconut. The masala will be ready after roasting, then add ¼ cup of water and mix it well.
When the water comes to a boil, reduce the flame to low and put chopped pieces of Dhokla in it and coat it in the spices while rotating it lightly. When the dhokla is coated well in the spices, turn off the flame and serve them. In this way the masala dhoklas will be ready, serve them and enjoy their taste.
Suggestions
All the ingredients have to be measured.
The consistency of the batter should neither be too thick nor too thin.
Fried Masala Dhokla without Eno or Curd

Tags
Categories
Fried Masala Dhokla without Eno or Curd
Nisha Madhulika
Rating:

5.00

out of

5