Spicy Fulwadi Quick Recipe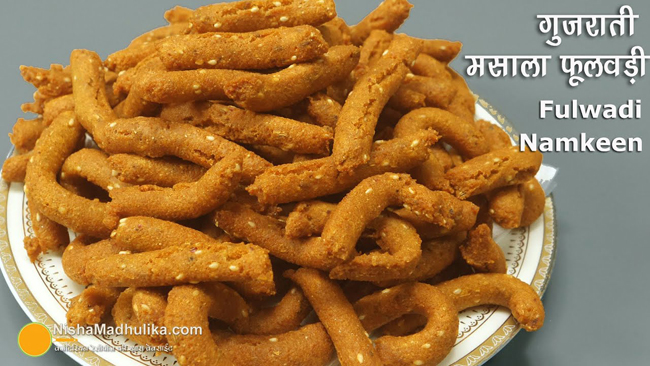 Fulwadi is also very famous among many things of Gujarat. This is a very tasty, spicy and crunchy snack. It is mostly made by machine or jhara. But today we will make it without the help of any machine or jhara. It will be ready in a jiffy with a very easy method. So you too make this famous snack of Gujarat and enjoy the taste of Gujarat sitting at your home.
Ingredients for Masala Fulwadi
Gram Flour - 2 cup (300 grams)
Semolina - ¼ cup (50 grams)
Turmeric Powder - ½ cup
Cumin Seeds Powder - ½ tsp
Coriander Seeds - 2 tsp
Fennel Seeds - 2 tsp
Black Pepper - ½ tsp, coarsely grounded
Red Chilli - 1 tsp, coarsely grounded
Sesame Seeds - 2 tbsp
Dry Mango Powder - ¾ tsp
Salt - 1 tsp
Curd - ¼ cup
Sugar Powder - 1 tsp
Oil - 6 tbsp (75 grams)
Baking Soda - ¼ tsp
Oil for Frying
Process of making dough
Put a sieve in a bowl and sieve 2 cups of gram flour and ¼ cup of semolina in it. Then add ½ tsp of turmeric powder, ½ tsp of cumin, fennel-coriander (roast 2 tsp whole coriander and 2 tsp fennel and grind it coarsely), ½ tsp of coarsely ground black pepper, 1 tsp of coarsely crushed red chilli, 2 tbsp of white sesame seeds, ¾ tsp of dry mango powder, 1 tsp of salt, 1 tbsp of sugar powder and ¼ cup of curd. Now mix them well.
Heat 6 tbsp of oil in a tadka pan till it starts smoking. Put ¼ tsp of baking soda in hot oil and mix it well after putting it in a hot oil bowl. Now prepare a soft dough by adding little by little water. Then cover it and keep it for 10 minutes.
Process of making Masala Fulwadi
If you have jhara, then take it, otherwise clean the milk bag thoroughly and fill some dough in it. Then cut a little from the bottom, the dough will come out from it and put it in the pan. Heat oil in the pan, then put the dough filled in the milk bag in hot oil by pressing it from above. Put it little by little and cut it with scissors. Remember the flame will be medium and the oil will also be medium hot.
When they come up on their own after roasting, then reduce the flame to low and fry them while stirring a little till they turn golden brown. When they are golden brown, take them out and fry the rest in the same way. In this way the masala fulwadi will be ready. After cooling completely, store them in any container and enjoy their taste for 10-15 days.
Suggestions
Do not add too much baking soda at all.
Keep its dough a little soft.

Tags
Categories
Spicy Fulwadi Quick Recipe
Nisha Madhulika
Rating:

5.00

out of

5