Layered Sweet Mawa Gujiya Recipe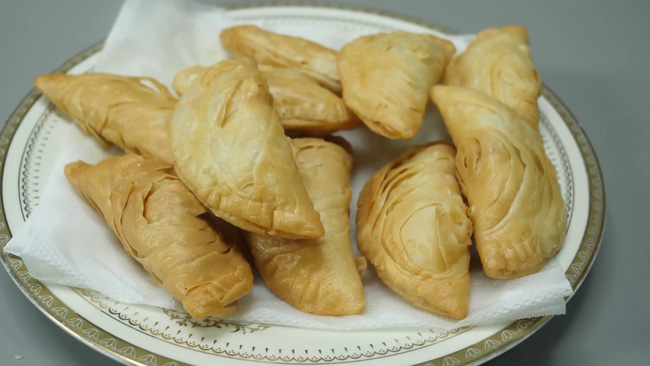 Gujiya is also served in sweets during the festival. But there is a lack of love in the Gujiya bought from outside. That's why today we are going to make gujiya with a crispy layer of mawa. It is very easy to make and the ingredients to make it are present in your kitchen. So you too make gujiyas with this method and give love and a sweet taste to your family members and guests.
Ingredients for Layered Mawa Gujiya
For Dough
Refined Flour - 1 cup (150 grams)
Desi Ghee - 1 tbsp
For Stuffing
Mawa - ½ cup (100 grams)
Almond Flakes - 1 tbsp
Cashews - 1 tbsp, chopped
Charoli Seeds - 1 tbsp
Dry Coconut - ¼ cup, grated
Raisins - 1 tbsp
Semolina - 2 tbsp
Desi Ghee - 1 tsp
Sugar Powder - ½ cup (70 grams)
Cardamom - 6, coarsely grounded
For Sata
Desi Ghee - 1.5 tbsp
Cornflour - 2 tbsp
Process of making dough
In a bowl, add 1 cup(150 grams) of all purpose flour and 1 tbsp of ghee and mix it well. Then add water little by little and knead it well. After kneading, cover it and keep it for half an hour.
Process of making stuffing
Roast ½ cup of mawa in a pan on medium flame while stirring continuously. When Mawa leaves ghee, add 1 tbsp of almond flakes, 1 tbsp of chopped cashew nuts and 1 tbsp of chironji to it. Now fry them a little along with mawa. After roasting lightly, add ¼ cup of grated coconut and fry them lightly. After roasting, turn off the flame and add 1 tbsp of raisins and mix it.
Take it out in a bowl and let it cool down. Put 2 tbsp of semolina and 1 tsp of ghee in the pan and fry till the semolina changes color. After roasting, put it in the same bowl. Then put ½ cup of sugar powder and 6 small coarsely crushed cardamoms in this bowl. Mix everything well, the stuffing will be ready.
Process of making Gujiya
Put 1.5 tbsp of ghee and 2 tbsp of cornflour in the bowl and mix it well, sata will be ready. Mash the dough a little and make 4 pieces of it, then round them like a peda, cover them and keep them. Now take a ball and roll it a little thick and keep it in a plate, roll and keep the rest of the rolls in the same way.
Take a roti and apply a thin layer of sata on it. Then put the second roti on it and apply the layer of sata back, in the same way, after keeping the third, then after keeping the fourth, apply the layer of sata. Now roll them after keeping all four, remember that you have to roll by pressing because there should not be any space in the middle of it. After this, roll it by pressing so that it becomes a little longer and even.
Then with the help of a knife, first cut this roll in half, then cut small balls of both the parts. Take a ball and roll it diagonally forward by pressing it. Remember, it has to be slightly thick like roti. Put some stuffing on it by rolling it, then put the stuffing in the middle and apply water around it with your finger. Now fold it and close it tightly. Then make a design by pressing it with a forked spoon from where it is pasted. Similarly prepare all the gujiyas by filling them.
Process of frying Gujiya
Put ghee in a pan and heat it, remember that the ghee should be less hot and the flame should also be low. Put as many gujiyas as you can in hot ghee and fry them on low-medium flame. When they float up, fry them from both the sides till they turn golden brown. After frying, take them out and fry the rest in the same way. In this way gujiyas will be ready, serve them and enjoy their taste.
Suggestions
Knead the dough a little hard.
The layer of sata should be thin.
They have to be rolled well so that there is no space left inside.
Keep the gujiya puri a little thick.
The stuffing is not to be filled too much and water has to be applied well on the corners.
While frying the gujiyas, the ghee should be slightly hot and the flame should be low-medium.
Layered Sweet Mawa Gujiya Recipe

Tags
Categories
Layered Sweet Mawa Gujiya Recipe
Nisha Madhulika
Rating:

5.00

out of

5