Urad Dal Masala Papad Recipe with problems solving tips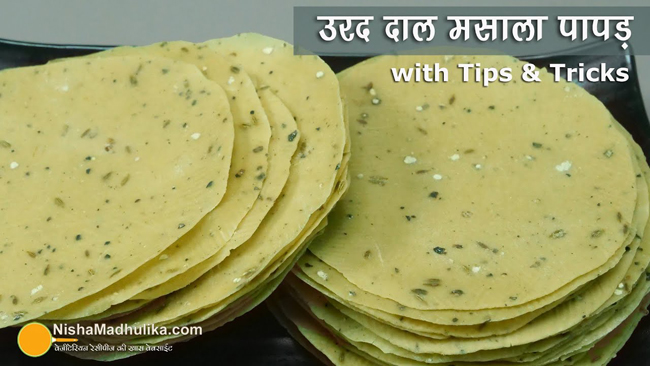 If there are papads on the food plate, then the taste of the food becomes wonderful. Keeping this in mind, today we are going to make Masala Papad of Urad Dal. It is very easy to make them, just follow the whole method carefully. After eating this papad made at home, you will not feel like getting a papad from outside. So you can make urad dal masala papad with this easy method and enjoy their taste.
Ingredients for Urad Dal Papad
Black Gram Flour - 2 cup (300 grams)
Cumin Seeds - 1 tsp
Black Pepper - 1.5 tsp, coarsely crushed
Salt - ¾ tsp
Papad Khar - 2 tsp
Process of making dough
Put a sieve in a bowl and filter 2 cups of urad dal flour in it. Then add 1 tsp of cumin and 1.5 tsp of coarsely ground black pepper and mix it. Now put ¾ tsp of salt and 2 tsp of papad khar in ¾ cup of lukewarm water and mix it well. By adding this water little by little, knead the hard dough as you prepare dough for poori. After kneading, take a little ghee on your hand and mash it lightly. Now cover it and keep it for half an hour.
Process of making Papad
After the time is up, take a little ghee in your hand and mash it well for 2 minutes. Now cut this dough into 2 parts and keep one part covered. Make the half of the portion soft, knead it well for 5-6 minutes by twisting and turning. After kneading, make it soft by pulling it with your hands.
Then take some ghee on your hand and roll it round. Cut it into two parts, roll it a little and cut it into small equal balls. After cutting the balls, apply some ghee on them so that they do not stick together. Roll the other part of the dough in the same way, cut its balls. Remember, keep them covered at all times.
Now take a ball and roll it thinly by wrapping it in dry flour of urad dal. Make it as big or small as you want. Roll all the papads in the same way and keep them on a plate. After rolling the papad, keep them separately on a cloth to dry them. Air has to be applied from both sides for 15-15 minutes. After getting air in both ways, put them together and keep them in the container.
Then dry them in the sun for 15-20 minutes from both sides. Spread the cloth and place them on it, after doing this, you can keep them in a container and eat it for a year. In this way the papads will be ready.
Process of frying Papad
Heat oil in a pan, then put papads in hot oil and fry them. Roast it by turning it from both the sides, then fry the rest in the same way.
If you do not want to eat oiled papad, then you can roast the papad over the gas by turning it over.
Also, put some oil on the papad and put it in the microwave and roast it. Bake for 30 seconds first, then flip back and cook for 30 seconds.
In this way, you can make papad by roasting it in a pan, on the gas or by roasting it in the microwave and enjoy its taste.
Problems and their Solutions
First complaint - papads turn red after frying.
This is because baking soda gets a little too much in it. If you put papad khar instead of baking soda, then this complaint will not come at all.
Secondly - papads are not rolled thin.
Make the dough a little hard and knead it well. The more you knead and stretch it, the more flexible it will become. When the dough becomes flexible, you can roll out the papads thinly.
Third thing - Dal flour is not available.
You can make it at home itself. Wipe the unpeeled urad dal with a damp cloth and dry it immediately under a fan. Apart from this, after frying it lightly in a pan, grind it finely in a mixer and filter it. Dal flour will be ready.
Fourth thing - The papad got fungus.
The reason is that the papads were not dried well. Make papad first and dry it for 15 minutes each from both the sides. Then on the second day also the papads are to be dried in the sun for 15-20 minutes from both the sides.
Fifth thing - While eating, papads are sticking in the teeth.
The papads are rolled balls and are not roasted well, so they are sticking to the teeth. The papads cooked properly will not stick to the teeth at all.
Sixth thing - The papads are bursting while rolling and the dough is getting scattered.
The reason for this is that the dough that you have kneaded is too hard and is not bound properly. The dough should not be too hard, it should be a little hard and a little soft.
Urad Dal Masala Papad Recipe with problems solving tips

Tags
Categories
Urad Dal Masala Papad Recipe with problems solving tips
Nisha Madhulika
Rating:

5.00

out of

5