Easy and Best Creamy Tomato Soup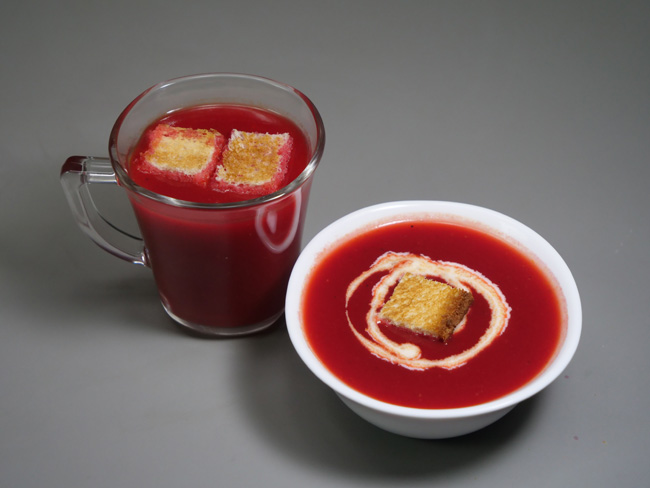 Today we are going to make a delicious tomato soup from the market soup. It is very easy to make and it is ready in a jiffy. This will turn out to be a very creamy soup and after drinking it once, you will stop asking for soup from outside. So with this easy recipe, you can also make this soup and enjoy the taste of this soup with your family.
Ingredients for Tomato Soup
Tomato - 4, (400 grams), chopped
Ginger - 1/2 inch, chopped
Salt - 1/2 tsp
Black Pepper -1/4 tsp, crushed
Beetroot -1/2 no, chopped
Cumin Powder - 1/2 tsp
Black Salt -1/2 tsp
CornFlour - 1 tsp
Sugar - 1.5 tsp
Butter - 1 tsp
Process of making Tomato Soup
Wash and dry 4 (400 grams) tomatoes well and cut them. Then chop ½ inch of ginger coarsely. In the cooker add chopped tomatoes, ginger, ½ tsp of salt, ¼ tsp of crushed black pepper, half a small sized beetroot and ½ add cup water.
Mix everything well, close the cooker and boil it on high flame till one whistle. After the whistle, reduce the flame to low and cook it on low flame for 2 minutes. When the time is up, turn off the flame and let the cooker cool down. Filter them when the cooker cools down, then cool the tomatoes well.
When it cools, put tomatoes, ¼ cup of water and ½ tsp of roasted cumin powder in the mixer jar. Grind them finely, then put the filtered water in the jar. Now sieve this paste and remove whatever fiber is left.
Put the filtered juice, 1.25 cup of water and ½ tsp of black salt in the bowl. Mix it and boil it, then in a bowl add 1 teaspoon of cornflour to a little water and make a smooth solution. When the soup comes to a boil, pour the cornflour solution little by little while stirring the soup continuously. Keep stirring the soup till it comes to a boil, then add 1.5 tsp of sugar and 1 tsp of butter to it. Mix it and cook it on low flame for 4 minutes while stirring it once in a while.
When the time is up, the soup will be ready, turn off the flame. In this way tomato soup will be ready. Take it out in a bowl, garnish it with a little cream and serve it and enjoy its taste.
Suggestions
To bring color to the soup, put beetroot in it, do not use food colour.
Easy and Best Creamy Tomato Soup

Tags
Categories
Easy and Best Creamy Tomato Soup
Nisha Madhulika
Rating:

5.00

out of

5