Sattu Ki Kachori - Easy Recipe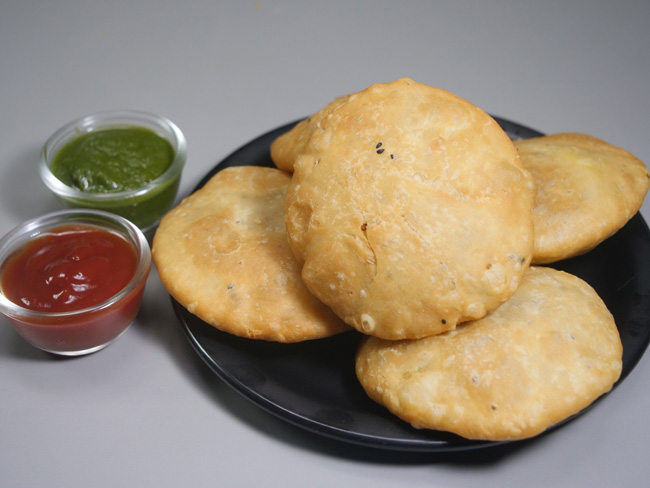 Inspired by a special dish of Purvanchal, today we are going to make Sattu ki Kachori. It is very easy to make and it is also quicker than other kachoris. It will be very crispy and crunchy. The ingredients for making this are present in your kitchen itself. So you too make Sattu ki Kachori with this easy recipe and enjoy the taste of it with your family for breakfast on holiday.
Ingredients for Sattu Kachori
Refined flour - 2 cup - 250 grams
Salt - 1/2 tsp
Carom seed - 1/2 tsp
Kalonji - 1/3 tsp
Ghee - 1/4 cup 60 grams
Oil - 2 tbsp
Cumin Seeds - 1 tsp
Fennel Seeds - 1 tsp
Asafoetida - 1 pinch
turmeric Powder - 1/2 tsp
Green Chilli - 3 nos
Ginger - 1 inch
Sattu - 1/2 cup - 50 grams
Coriander Powder - 1 tsp
Red Chilli - 3/4 tsp
Garam Masala - 1/2 tsp
Salt - 1/2 tsp
lemon - 1
Curd - 2 tsp
Process of making Dough
Put 2 cups of all purpose flour, ½ tsp of salt, ½ tsp of carom seeds, ⅓ tsp of kalonji and ¼ cup of ghee in a bowl. Mix them well, then add water little by little and knead a soft dough. If it starts sticking, then knead it by applying a little ghee in your hand. After kneading, cover it and keep it for 20 minutes.
Process of making Stuffing
Put 2 tbsp of oil in a pan and heat it. Slow down the flame and add 1 tsp of cumin, 1 tsp of whole fennel, 1 pinch of asafoetida, ½ tsp of turmeric powder and green chilli-ginger (3 green chillies and 1 inch ginger) coarse paste to hot oil. Fry them lightly, then add ½ cup of sattu to it and mix it well.
Then add 1 tsp of coriander powder, ¾ tsp of red chilli, ½ tsp of garam masala and ½ tsp of salt. Fry them on low flame while stirring continuously for 1 minute and turn off the flame. Stir it for a while in the hot pan, then add juice of 1 medium size lemon and mix it well. Then add 2 tsp of curd and mix it, the stuffing will be ready, take it out.
Process of filling Kachori
Apply a little oil in your hand and mash the dough lightly, then break balls from it. Make as big or small balls as you want to make kachoris, keep it covered. Take out a ball and press it to give the shape of a cup. Put two spoons of stuffing in it and close it, then stick it on top and break a little dough.
Now close it by pressing a little, then apply light oil on the rolling pin and roll it very little. Filling kachoris in this way will be ready, prepare the rest of the kachoris by filling them in the same way.
Process of frying Kachori
Heat oil in a pan, the oil should be less than medium heat and the flame should be very low. Put kachoris in hot oil and fry them for 4-5 minutes on low flame. When they float to the top, then turn them over and fry them by turning them once in a while.
When they are lightly fried, increase the flame slightly and fry the kachoris till they turn golden brown from both the sides, then take them out. In the meantime, when the oil becomes very hot, turn off the flame for a while, cool it slightly and put it back to fry the kachoris after burning the flame. Similarly prepare all the kachoris by frying them.
Sattu kachoris will be ready. Serve them with spicy green coriander chutney or tomato sauce and enjoy their taste.
Suggestions
If there is no sattu flour, then take roasted gram, knead them with your hands and peel them off. Then after grinding them and filtering, Sattu flour will be ready.
Knead the dough soft.
The flame should be low-medium while frying the kachoris.
These kachoris can be kept outside and eaten for 3-4 days.
Sattu Ki Kachori - Easy Recipe

Tags
Categories
Sattu Ki Kachori - Easy Recipe
Nisha Madhulika
Rating:

5.00

out of

5