Phool Makhana Matar Special Curry, Easy Recipe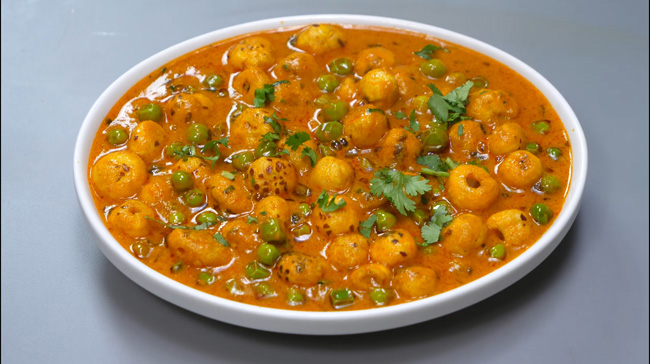 Today we are going to make makhana matar curry, specially for your home party. You can make vegetable curry with this easy recipe for any special occasion or home party. Its taste is very different and it is very tasty. If you eat it once, you will want to eat it again and again. So you too make this vegetable of Matar Makhana with this easy method and become the best host of your party.
Ingredients for Makhana Matar Curry
Ghee - 1 tsp
Makhana - 1.5 Cup (30 grams)
Oil - 2 tbsp
Cumin Seeds - ½ tsp
Coriander Powder - 1 tsp
Turmeric - ¼ tsp
Tomato - 2
Ginger - ½ inch
Green Chilli - 1
Cashews - 15
Kashmiri Red Chilli - 1 tsp
Cumin Powder - ½ tsp
Green Peas - 1 Cup (350 grams)
Salt -1 tsp
Garam Masala - ½ tsp
Coriander Leaves
Process of roasting Makhana
Put 1 tsp of ghee in a pan and heat it. Put 1.5 cups of makhana in hot ghee and fry it while stirring continuously till it becomes crisp. Fry them on low-medium flame for 8 minutes. When roasted, take out the makhana in a bowl.
Process of making Matar Makhana Special Curry
Put 2 tbsp of oil in a pan and heat it. Reduce the flame to low and add ½ tsp of cumin seeds, 1 tsp of coriander powder, ¼ tsp of turmeric and tomato-green chilli-ginger-cashew paste (2 tomatoes, 1 green chilli, ½ inch of ginger and 15 cashews) in the hot oil. Mix them well and fry for 2 minutes.
After 2 minutes, add 1 tsp of Kashmiri red chilli, ½ tsp of cumin powder and 1 cup of green peas and mix it well. Also add 1 tbsp of dry fenugreek (mashed on the palm) and mix it. Cover them and cook for 2-3 minutes, then cover them again and cook for 4 minutes, stirring every 2 minutes.
When the time is up, add 1.5 cups of water, 1 tsp of salt and ½ tsp of garam masala and turn up the flame a bit. Then cover it and cook for 2-3 minutes, when it comes to boil, stir the gravy in the open and cook it for 2-3 minutes.
Then cover and cook for 5 minutes, after that add roasted makhana and some green coriander and cook for 1 minute. When the time is over, the vegetable of Matar Makhana will be ready. Serve it with roti, naan paratha or rice and enjoy its taste.
Suggestions
Fry the makhana on low-medium flame.
Phool Makhana Matar Special Curry, Easy Recipe

Tags
Categories
Phool Makhana Matar Special Curry, Easy Recipe
Nisha Madhulika
Rating:

5.00

out of

5