Dahi Vada Recipe with Special Tips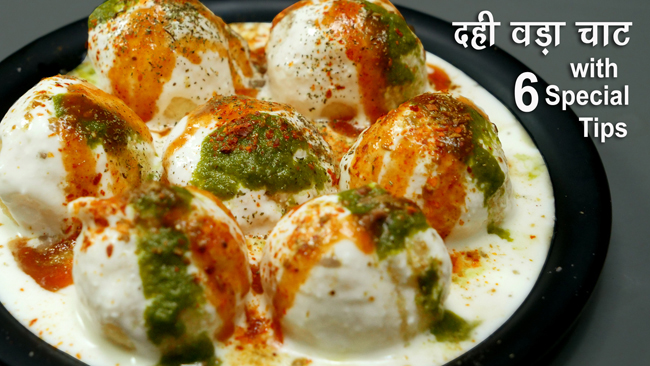 Dahi Vadas are also known as Dahi Bhalla and Dahi Pakora. Today we will make Dahi Vada with some special tips, we will learn to make them puffy. Also, we will make these in two ways, some fried in oil and some without frying in very little oil. They will turn out to be very soft and spongy, you can make them on festivals and serve them to the guests or you can eat them by making them like this.
Ingredients for Dahi Vada Chaat
For Vada
Split Black Gram - ½ cup (soaked for 3 hours)
Moong Daal - ½ cup (soaked for 3 hours)
Salt - 1 tsp
Ginger - 1 inch, finely chopped
Green Chilli - 2, finely chopped
Eno Fruit Salt - ¼ tsp
Salt - 1 tsp
Asafoetida - 1 pinch
For Dahi
Curd - 2 cup, fresh
Powdered Sugar - 2 tsp
Black Salt - ¼ tsp
For assembling Dahi Vada
Black Salt - 1 tsp
Cumin Powder - 1 tsp
Red Chilli - 1 tsp, crushed
Pudina Powder - ½ tsp
Chaat Masala - 1 tsp
Green Chutney
Red Chutney
Process of making batter for Vada
Wash ½ cup of urad dal and ½ cup of moong dal thoroughly and soak them for 3 hours. After the time is up, take out their water and put them in a mixer jar and grind them after adding 3-4 tablespoons of water.
Special Tips
Grind the lentils lightly like semolina grains, do not make it fine like flour.
After grinding the lentils, take it out in a bowl and beat it for 8-10 minutes. Remember, you have to beat it until the color of the mixture changes and it looks puffy. By doing this the vadas will become very puffy and soft. Remember, if after some time while whisking the dal, the dal starts getting thick, then add some water and beat it again. The dal has to be whipped while rotating it from one side. After the time is up, take water in a bowl and put the whipped dal in it a little with a spoon, if the mixture will float, that means the lentils have been mixed well.
Special Tips
The pulse has to be whipped so much that it becomes twice as much as it was and it turns white in color, when put on water, it should float.
After mixing well, add 1 tsp of salt, 1 inch of finely chopped ginger and 2 finely chopped green chilies and mix it well.
Special Tips
Add finely chopped ginger and green chilies to the lentils, they give a very good taste to the dahi vadas.
Process of frying Vada
Heat oil in a pan, keep the flame low-medium. After the oil is hot, take the batter of the vada and also take water in a bowl. Now after dipping your hands in water, take the batter and give it a round shape and put as many vadas in the pan as can come. Let them roast till they become light golden brown, then turn them and roast them from the other side till they turn golden brown and take them out on a plate. Fry some vadas in the same way.
Process of making Non-Fried Vada
Put a little oil in the holes of an appam maker and spread it well in the holes. Remember the flame will be low. Add ¼ tsp of eno fruit salt to the batter till the oil becomes hot and mix it well. After mixing it well, pour the batter little by little. Now cover them and let them cook on low-medium flame for 3 minutes.
After 3 minutes, if they look lightly cooked from below, then pour some oil from above and turn them over. Cover them from the back and cook for 2 minutes, when the time is up, the non-fried vadas will be ready.
Process of soaking Vada
Take lukewarm water in a bowl, then add 1 tsp of salt and 1 pinch of asafoetida and mix it well. Now put as many vadas in water as you want to eat, keep a heavy plate on top for dipping so that they remain under water. Keep them immersed for 15 minutes.
Process of making Dahi
Put 2 cups of fresh curd in 2 cups of sugar powder and ¼ tsp of black salt. Now while whisking, mix it well and make it smooth.
Special Tips
Take fresh curd at once and make it smooth by whipping it. Do put sugar in curd, it brings sweetness to curd, which tastes great in chaat.
Process of making Dahi Vada
Some special spices are needed to make Dahi Vada; 1 tsp of black salt, 1 tsp of roasted cumin powder, 1 tsp of crushed red chilli, 1 tsp of chaat masala and ½ tsp of mint powder. Make a mixture by mixing them so that they are mixed together.
Press the vadas lightly on a plate and squeeze out their water. Keep as many as you want to serve. Now coat them well with curd. Then put some green chutney on all the vadas and then add as much sweet chutney as you want. Now put spices on them, if you want, you can put them separately or even mix them. Dahi vadas will be ready, you can make both types of dahi vadas together in the same plate. Serve them and enjoy their taste.
Suggestions
While grinding the lentils, do not make it very fine.
Keep whisking the lentil paste until it becomes twice as much as it was.
And while frying the vadas, keep in mind that the oil should be medium hot and the flame should be low-medium.
Dahi Vada Recipe with Special Tips

Tags
Categories
Dahi Vada Recipe with Special Tips
Nisha Madhulika
Rating:

5.00

out of

5