Kolkata Street food Veg Stuffed Mughlai Paratha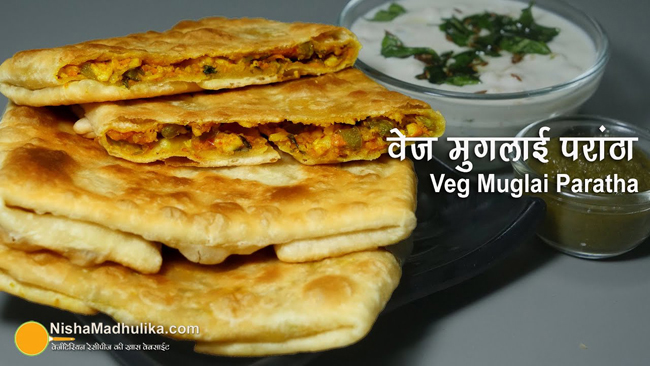 Street food of Calcutta is very famous, one of them is Veg Mughlai Paratha. It is filled with delicious vegetables and special stuffing of paneer and is very tasty to eat. The method of making it is very easy and after eating it, you will like to make it again and again.
Ingredients for Veg Mughlai Paratha
For Dough
Refined Flour - 2 cup (250 grams)
Salt - ½ tsp
Baking Powder - ½ tsp
Oil - 2 tsp
For Stuffing
Oil - 1 tsp
Ginger - 1 tsp, grated
Green Chilli - 2
Carrots - ½ cup, grated
Capsicum - ½ cup, chopped
Cauliflower - ½ cup, chopped
Turmeric Powder - ¼ tsp
Red Chilli Powder - ¼ tsp, crushed
Coriander Powder - 1 tsp
Cumin Seeds Powder - ½ tsp
Garam Masala - ¼ tsp
Amchoor - ¼ tsp
Salt - ½ tsp
Coriander leaves - 2 tbsp
Paneer - ½ cup (100 grams)
Oil For Frying
Process of making dough
In a bowl add 2 cups of all purpose flour, ½ tsp of salt, ½ tsp of baking powder and 2 tsp of oil and mix them well. Now add a little water and knead it like you make dough for paratha. After kneading, cover and keep it for 15-20 minutes.
Process of making Stuffing
Put 1 tbsp of oil in a pan and heat it. After heating, reduce the flame to low and add 1 tsp of grated ginger, 2 finely chopped green chilies, ½ cup of grated carrots, ½ cup of finely chopped capsicum and ½ cup of grated cauliflower. Now mix them while stirring lightly and add ¼ tsp of turmeric powder, ¼ tsp of red chilli, 1 tsp of coriander powder, ½ tsp of cumin powder, ¼ tsp of garam masala, ½ tsp of amchur powder, ½ tsp of salt and some green coriander.
Mix them well and fry for 1-2 minutes, remember that the stuffing should not be fried too much, otherwise it will become dry and the paratha will not be as much fun to eat. After frying for 2 minutes, add grated paneer and mix it well and turn off the flame. Stuffing will be ready, take it out on a plate and cool it.
Process of making Paratha
After the time of keeping the dough is over, take some oil in your hand and mash the dough well and make it soft. Then make a peda after breaking a little dough and roll it by applying some dry flour, remember to roll it thin like a roti and if it starts sticking while rolling, then apply some flour on it and roll it.
After rolling it, put 4-5 spoons of stuffing on it and spread it in a square shape in the middle. Cover it from all the four corners, close it and roll it with a rolling pin so that it sticks well. Now put 3 tbsp of oil in a pan and heat it, remember the flame will be low-medium. After heating, keep the parantha in it and roast it till it turns golden brown from both the sides. Prepare all the parathas in the same way, Veg Mughlai Parathas will be ready.
Suggestions
Roll the paratha thin.
Fry the stuffing lightly.
Close the paratha well and then roll it with a very light hand.
Keep the flame low-medium while roasting the parathas.
Kolkata Street food Veg Stuffed Mughlai Paratha

Tags
Categories
Kolkata Street food Veg Stuffed Mughlai Paratha
Nisha Madhulika
Rating:

5.00

out of

5