Pearl Millet Flour Barfi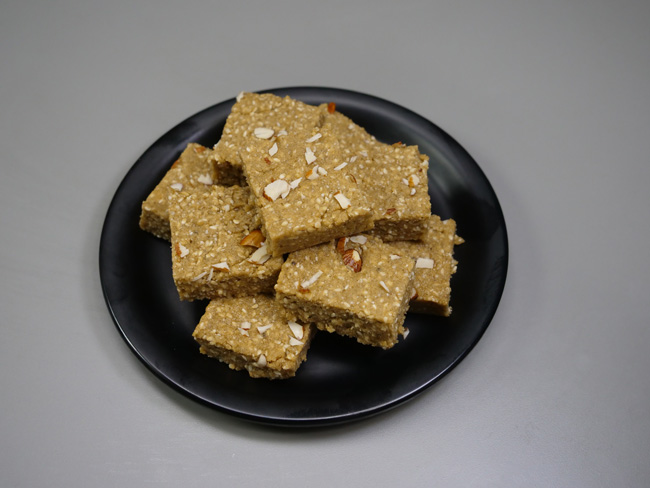 To give strength in winter, today we are going to make Til Bajra Barfi. They are very tasty to eat and very few ingredients will be required to make them. It is also very beneficial for health. So you too make this healthy barfi with this easy method and enjoy its taste with family.
Ingredients for Til Bajra Burfi
Sesame Seeds - 1.5 Cup (200 grams)
Ghee - ¼ Cup (50 grams)
Pearl Millet flour - 1 Cup (150 grams)
Cardamom - 7-8
Ghee - 1 tbsp
Jaggery - 1.5 Cup (300 grams)
Almond Flakes
Process of preparing Sesame Seeds
Add 1.5 cups of sesame seeds in a medium heated pan and fry it on medium flame while stirring continuously. Fry it for 4 minutes while stirring continuously till it becomes light brown and changes color. After roasting, take it out in a bowl and cool it.
When it cools down, put half sesame seeds and 7-8 cardamom peeled in the mixer jar. Make a powder by grinding them.
Process of roasting Millets Flour
Melt ¼ cup of ghee in the same pan, then add 1 cup of millet flour to it. Roast it on low-medium flame while stirring continuously. Fry it for 10 minutes till the ghee separates, then take it out.
Process of making mixture
Put 1 tbsp of ghee, 1.5 cups of jaggery and 2 tbsp of water in the pan. Cook it on low flame till the jaggery melts. Remember the flame will remain low. Cook it till the jaggery dissolves and starts foaming.
After the jaggery is cooked well, add roasted millet flour and cook it on low flame, stirring continuously, till it mixes well. Then add ground sesame and whole sesame seeds to it and mix it well. Turn off the flame when it is completely mixed.
Grease the tray with ghee, then pour the mixture into it and spread it evenly. Put some almond flakes on it and flatten it with a spoon. Keep it to solidify for half an hour. When the time is up, cut it into your desired size. Til Bajra Barfi will be ready, serve it and enjoy its taste.
Suggestions
Do not darken the sesame seeds.
Roast the flour on low-medium flame.
Very little water has to be added to melt the jaggery.

Tags
Categories
Pearl Millet Flour Barfi
Nisha Madhulika
Rating:

5.00

out of

5