Masala Champakali Namkeen Recipe | Karela Nimki Recipe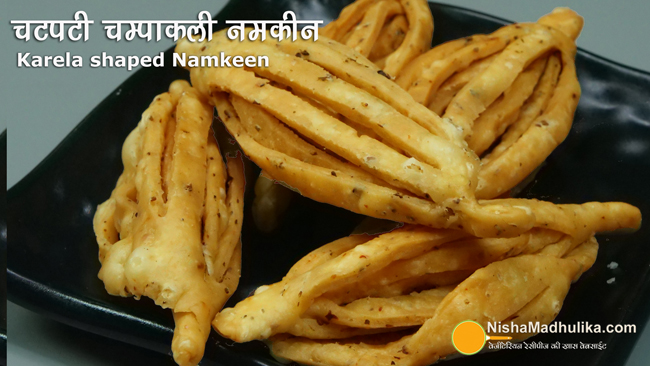 Masala champakali namkeen is a bitter gourd shaped namkeen, which is prepared specially during Diwali. It is not only appealing to the eyes but tongue also.
Make sure to prepare enough champakali as your family or friends might ask for more. Let's get started!
Ingredients for Champakali Namkeen
Refined Flour - 2 Cup (250 grams)
Cumin Seeds - 1/2 tsp
Carom Seeds - 1/2 tsp
Oil - 1/4 Cup
Red Chilli - 1/2 tsp, coarsely ground
Black Pepper - 1/4 tsp, crushed
Salt - 1/2 tsp
and
Oil for Frying
Masala Champakali Namkeen Recipe
To prepare masala champakali, start with the dough preparation. Take 2 cups of maida and add spices to it.
Add 1/2 tsp of cumin seeds, 1/2 tsp carom seeds, 1 tbsp of dry fenugreek leaves to the Maida after crushing them with your hands. Next, add 1/2 tsp crushed red chili, 1/4 tsp of crushed black pepper, 1/2 tsp salt, 1/4 cup oil, and mix well.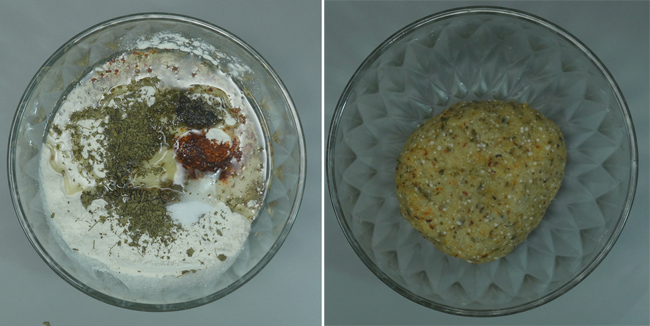 Pour water gradually and knead a stiff dough. The dough would be stiff as poori dough. Cover the dough and rest for 25-30 minutes to set.
[After 30 minutes]
Knead the dough a little to make it smooth. Next, divide the dough into small portions (loi). Take a piece of dough (loi), make it round, and give it a peda shape.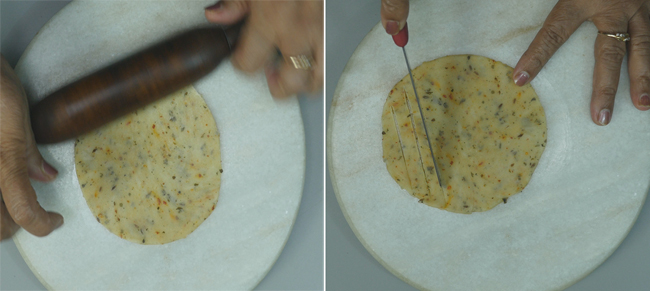 Roll the dough into a roti of 3.5 to 4 inches in diameter. Cut 1/2 cm of strips across the rolled roti while keeping the edges connected.
Start folding the sheet from the edges, such that it looks like a bitter gourd. Likewise, prepare all the champakali.
Heat the oil in the Kadai for frying. We need oil a little less hot than medium and keep the flame low. When the oil is just about perfect, drop as many champakali the Kadai can hold.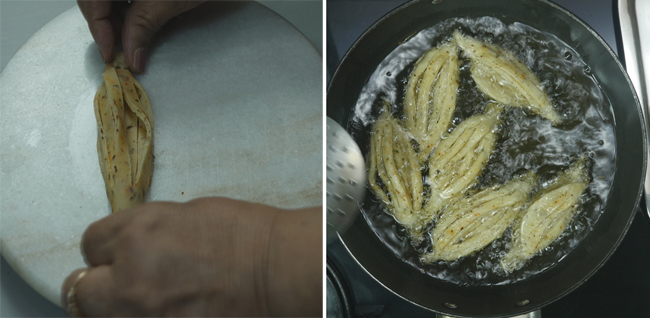 Fry the champakali over low flame for 2-3 minutes. Once fried from below, turn them around and fry over the low-medium flame till golden brown from all sides.
When the champakali turns golden brown, take them out on a plate and fry up the next batch; each batch takes 7-8 minutes.
With the prepared dough, we got 18 pieces of Champakali. Masala Champakali namkeen is ready to be served.
It is very crispy and delectable. Enjoy these nimki with a cup of hot tea. Store champakali namkeen in an airtight container and enjoy them for 3-months.
चटपटी चम्पाकली-दीवाली की खास नमकीन । Karela Nimki Recipe| Spicy Champakali Nimki | Namkeen elo jhelo

Tags
Categories
Masala Champakali Namkeen Recipe | Karela Nimki Recipe
Nisha Madhulika
Rating:

5.00

out of

5