Crispy Rava Dosa Recipe | Instant Rava Wheat flour Dosa
Rava/Suji Dosa is a South Indian recipe prepared using semolina (aka Suji) and enjoyed with coconut or peanut chutney. The preparation is an ideal breakfast as it gets ready in no time. So, let's get started.
Ingredients for Instant Dosa:
Semolina -1 Cup
Wheat Flour - 1/4 Cup
Curd - 1 cup
Salt - 3/4 tsp
Baking Soda - 1/4 tsp
Crispy Rava Dosa Recipe:
First, we will prepare the batter for the dosa. Take 1 cup of fine semolina, add 1/4 cup of wheat flour, 1 cup of curd, 3/4 tsp of salt, and mix well. Add a little water to the batter and mix well.
The batter consistency would be similar to a regular dosa batter. Once the batter is ready, cover and set aside for 15 minutes to set.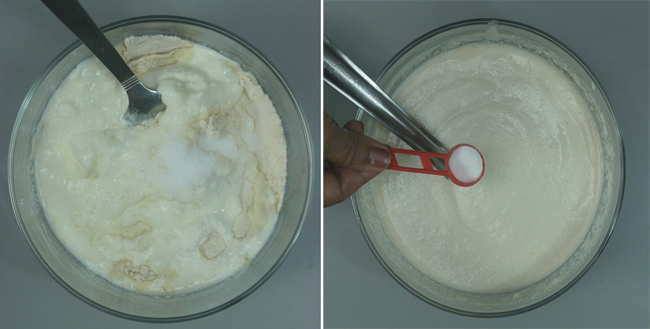 After 15 minutes, add a little water to the batter if it appears thick. We had 1 cup of water, out of which 2 tbsp of water is remaining. Next, add 1/4 tsp of baking soda to the batter and mix well.
Alternative: You can replace baking soda with 1 tsp of Eno fruit salt.
Heat a pan to prepare the dosa. When the pan is hot, grease it with a little oil. Sprinkle water over the pan and wipe it.
Add the batter in the pan and spread it in a circular motion using a spatula. Next, drizzle oil around the circumference and at the top of the dosa.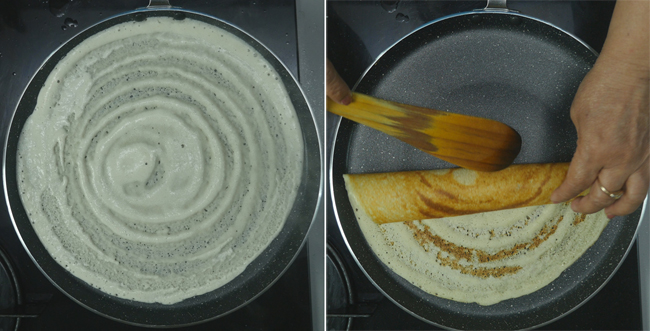 Cook the dosa over high heat until the base is golden brown. Once the dosa is ready, roll and take it out on a plate. Prepare the dosa from the remaining batter similarly.
Suggestion: Make sure to sprinkle and wipe the water before preparing another dosa. Do not put the batter in the hot pan.
With the prepared batter, we have made 7-8 dosa.
Rava dosa is ready to be served. Dosas turned out very crispy and delicious. So, prepare and serve the dosas hot with green coriander, peanut, coconut chutney, or any of your favorite dip.
सूजी और आटे से बना कुरकुरा दोसा । Crispy Rava Dosa Recipe | Instant Rava Wheat flour Dosa

Tags
Categories
Crispy Rava Dosa Recipe | Instant Rava Wheat flour Dosa
Nisha Madhulika
Rating:

5.00

out of

5