Aloo singhada Dahi Vada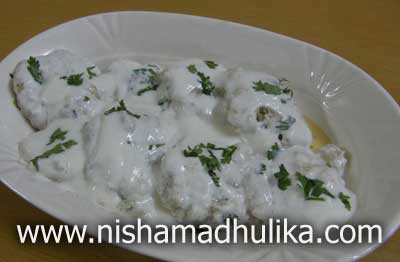 In the series of fruit diet recipes for fasts like during the occasion of Shivratri, Aloo singhada Dahi Vada or Water Chestnut Dahi Vada is a favorite.
हिन्दी में पढिये : Aloo singhada Dahi Vada
- Ingredients for Aloo singhada Dahi Vada
Potatoes - 400 grams
Singhada or Kuttu flour - 50 grams
Plain salt - 1/2 tsp(add to taste)
Black pepper - 1 tsp
Elaichi - 2  (peel them)
Green coriander(dhaniya) - 1 tbsp(finely chopped)
Curd - 400 grams
Ghee - to fry Dahi Vada
- How to Make Aloo singhada Dahi Vada
Wash potatoes and boil. Cool them and then peel.
Break potatoes into small pieces and then mash them. Put Singhada flour, plain salt, 1/2 tsp black pepper, Elaichi and coriander then knead them together.
Beat the curd. Add plain salt(add to taste) and 1/2 tsp black pepper and mix.
Pour Ghee in a pan(kadhai) and heat.


Soak a clean handkerchief or cloth in water. Place wet cloth on a bowl and catch it from below. Take some of the dough(of potatoes) and make a round ball. Place the ball on the wet cloth and flatten by using water then put it in the pan. Make 4-5 Vadas at one time and put in the pan.  Turn Vadas from one side to another and fry till they turn brown.
After frying the Vadas take them out of the pan and dip in curd. Your fruity Aloo singhada Dahi Vada is ready.  Keep the fruity Vadas on bowl. Garnish with green coriander leaves. Serve delicious Dahi Vada  during fasts on lunch times.
Dry Dahi Vada also taste good to eat, so keep the Vadas aside which you want to eat dry and soak the others in curd.
Aloo singhada Dahi Vada video in Hindi


Tags
Categories
Aloo singhada Dahi Vada
Nisha Madhulika
Rating:

5.00

out of

5