Crispy Veggie Rice Balls Recipe । Spicy fried Veggie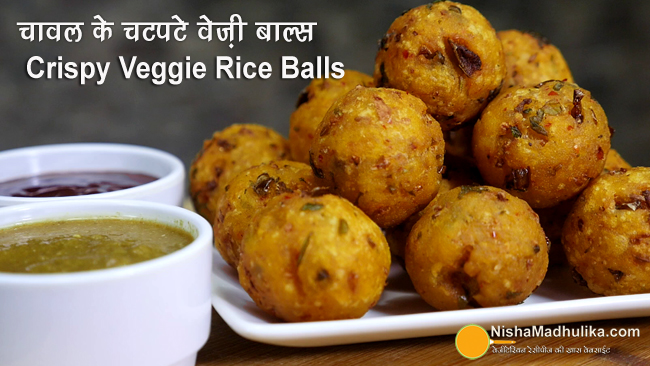 Deciding the appetizer for a party or craving for something crispy and savory with a cup of tea, then we have the perfect dish for you, veggie-rich balls. These rice balls are crispy and soft. Prepare and enjoy this delicious and healthy rice balls with chutney or sauce. Let's get started.
Ingredients Required for Veggie Rice Balls:
Salt - 3/4 tsp
Oil - 2 tsp
Rice Flour - 1 cup (150 grams)
Capsicum - 3- 4 tbsp, chopped
Cauliflower - 1/2 cup, grated
Ginger - 1 tsp, grated
Green Chilli - 3 or 4, chopped
Cumin seeds - 1/2 tsp
Coriander Powder - 1 tsp
Red Chilli - 3/4 tsp
Dry Mango Powder - 1/4 tsp
Garam Masala - 1/4 tsp
Turmeric Powder - 1/4 tsp
Fresh Coriander - 2- 3 tbsp
Boiled Potato - 1/2 cup, grated
Oil for frying
Crispy Veggie Rice Balls Recipe:
Take a pan and pour 1.25 cups of water in it. Add ¾ tsp of salt and 2 tsp of oil to the water. Cover the pan & bring the water to a boil.
Once it comes to a boil, add 1 cup of rice flour and mix well. Turn off the flame. Cover the mixture and leave it for 5 minutes.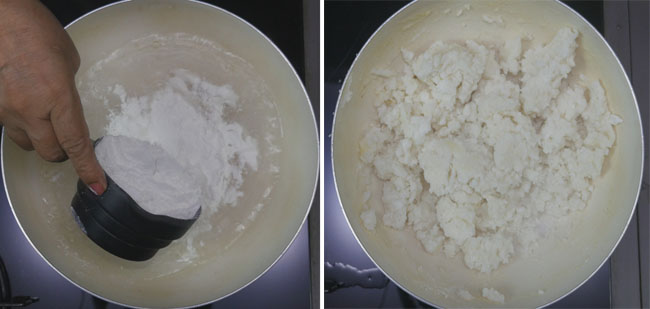 [After 5 minutes]
Transfer the mixture to a bowl. Now, add veggies and spices in it. Add 3-4 tbsp of finely chopped capsicum, ½ cup of grated cauliflower, 1 tsp of grated ginger, and 3-4 finely chopped green chilies to the mixture.
Alternative: You can also add onion, cabbage, spinach, or any vegetable of your choice.
Now, add ½ tsp of cumin seeds, 1 tsp of coriander powder, ¾ tsp of crushed red chili, ¼ tsp of dry mango powder (amchur), ¼ tsp of garam masala, ¼ tsp of turmeric powder, 2-3 tbsp of chopped green coriander and mix well while the mixture is still hot.
Alternative: You can add chaat masala instead of Amchur.

Once the mixture cools down a bit, knead it to form the dough. Add ½ cup of grated potatoes in the mixture and mix well. The dough is ready.
Apply a little oil on your hand and take out a portion of the dough. Bind the dough well (like Laddo) and roll it between your palms to form a ball. Likewise, prepare all the balls from the rest of the dough.
Heat the oil in the Kadai for frying the rice balls. Drop 1-ball in the Kadhai to check the oil temperature. We need perfectly hot oil for frying.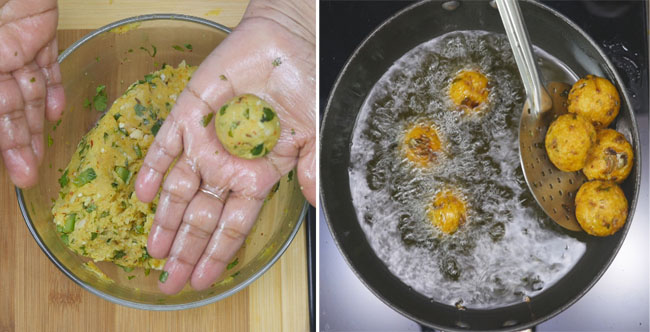 When the oil is hot, drop as many balls in the kadhai as it can hold. Transfer the rice balls to a plate once they turn golden brown.
Take rice balls out using a spatula, hold the spatula at the corner of the Kadai to strain off the surplus oil. Then, put the fried rice balls on the plate. Similarly, fry up all the balls. Each batch will take 6-7 minutes.
The veggie rice balls are ready to be served. Serve them hot with green chutney or tomato sauce.
चावल के चटपटे वेज़ी बाल्स । Crispy Veggie Rice Balls Recipe । Spicy fried Veggie | Gluten Free Recipe

Tags
Categories
Crispy Veggie Rice Balls Recipe । Spicy fried Veggie
Nisha Madhulika
Rating:

5.00

out of

5