Vegetable Spring Roll Recipe | Vegetable Spring Roll With Homemade Wrappers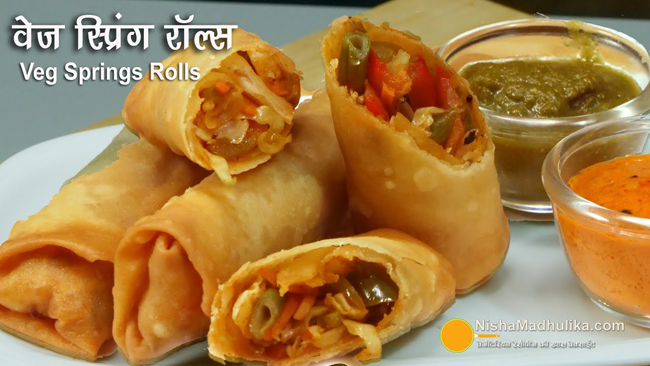 Among various kinds of fast-food, spring rolls are the most favored starter or snacks. You can prepare spring rolls at home with homemade Wrappers. These rolls have a crispy crust and vegetable stuffing in it, best served hot with chutney or sauce.
Let's begin the preparation.
Ingredients for Veg Spring Rolls
The ingredients are categorized into 2-heads to ease any confusion out.
For Dough:
Refined Flour - 1 Cup (125 grams)
Salt - 1/4 tsp
Oil - 1 tsp
For Stuffing:
Oil - 2 tsp
Ginger - 1 tsp, grated
Green Chilli - 2, finely chopped
Beans - 1/2 Cup, chopped
Carrot - 1/2 Cup, chopped
Green Capsicum - 1/2 Cup, chopped
Red Capsicum - 1/2 Cup, chopped
Salt - 1/2 tsp
Black Pepper - 1/2 tsp, crushed
Cabbage - 1 Cup
Soya Sauce - 1/2 tsp
Vinegar - 1/2 tsp
Tomato Sauce - 1 tsp
Oil for Frying
Vegetable Spring Roll Recipe:
To prepare spring rolls, let us first start preparing wrappers.
Prepare the Wrappers Sheet:
Start with the dough preparation. Take 1 cup Maida (refined flour) in a bowl. Add ¼ tsp of salt (or as per your taste) and 1 tsp of oil to the maida and mix well.
Now, pour water gradually in the maida and bind the dough well. knead a soft dough same as required for making chapati. We have used less than ½ a cup of water for kneading.
Apply a little oil on your hand and knead the dough. Cover the dough and keep aside for 20 minutes to get set.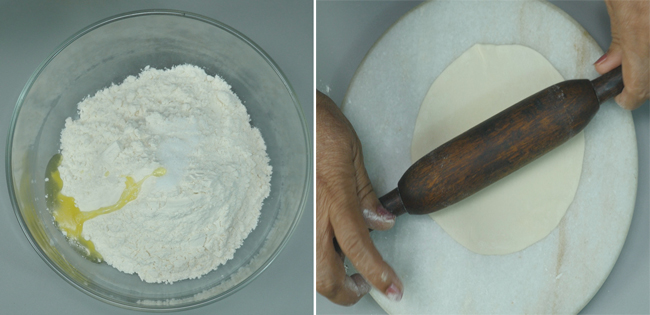 [After 20 minutes]
Once again, knead the dough a bit more to make it soft. Divide the dough into 2-equal portions. Further, divide the 2-portions into small lumps. Pick one lump and cover the remaining dough lumps.
Roll the dough between your palms and shape it like Peda. Now, dust the dough with dry maida and roll a thin sheet (puri) of 3-4 inches in diameter. Roll the sheet evenly.
Once rolled out and ready, place it on a plate. Likewise, roll all the sheets in a round shape with a 3 to 4-inch in diameter.
Now, take one rolled sheet (puri) and apply some oil over the sheet. Next, sprinkle a little dry Maida over it and spread it. Place another sheet over this sheet. Press it gently and again apply oil, sprinkle dry maida, and place another sheet over it.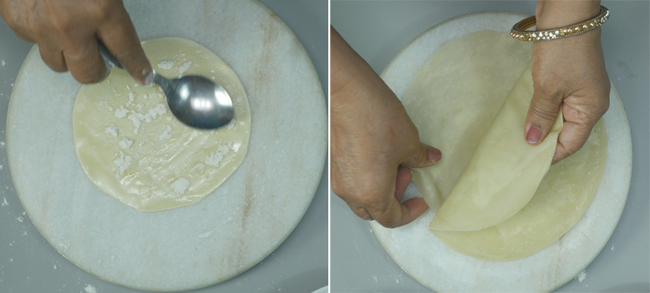 Once pasted all the 3-sheets together, press gently, dust in dry maida, and roll it into 7-8 inches in diameter.
Place the Sheet on slightly heated Tawa. Roast the sheet from both sides until the color slightly changes. Once roasted from both sides, place it out on a board and separate the wrappers. So, we have prepared 3-wrapper sheets at once.
Likewise, prepare all the wrappers sheets.
Prepare the stuffing:
Add 2 tsp of oil, 1 tsp of grated ginger (or ginger paste), 2-finely chopped green chilies to a pan, and briefly sauté them.
Now, we will add vegetables. Add ½ cup of chopped beans, ½ cup carrots (julienne), ½ cup of capsicum, ½ cup of red capsicum and sauté them for 1 minute over high heat. Make sure not to overcook the vegetables.
Suggestion: You can add any veggie you want. We have also added cabbage, which is totally optional.
Now, we will add spices. Add ½ tsp of salt, ½ tsp of crushed black pepper, and ½ tsp of red chili powder.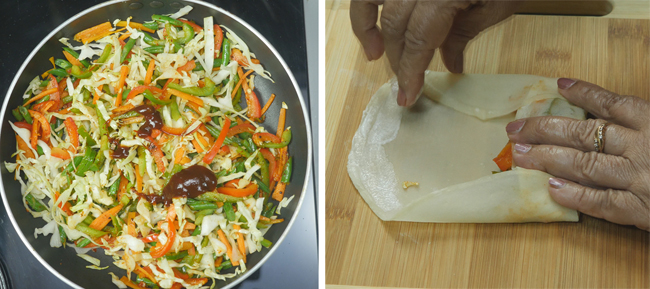 Add ½ tsp of soya sauce to add flavor and ½ tsp of vinegar (optional), and 1 tsp of tomato sauce. These things will add flavor to the stuffing. Mix well and turn off the flame. Our stuffing is ready.
Assemble the Spring Rolls:
Before we start assembling the roll, let us first prepare the slurry. Take 1-2 tsp of maida in a bowl. Add a little water to the bowl, mix well, and prepare a thick paste.
Now, begin the preparation of the spring rolls. Take one prepared wrappers sheet and add 2 tsp of stuffing to it. Place the stuffing at the upper corner while maintaining space. Make sure not to over-stuff the rolls. Collect the stuffing together in length.
Next, cover the stuffing by making a fold from the upper corner. Fold it from the sides (both right and left) to wrap the ends. Apply slurry at the topmost corners. Now, roll the covered stuffing towards the top and seal it well at the end. Likewise, prepare all the spring rolls.

Fry the Spring rolls:
Heat the oil in a Kadhai for frying. Drop a piece of dough to check the oil. In the beginning, keep the flame low-medium.
If the oil is hot (as desired for frying), drop a batch of spring rolls in the kadhai. Fry them up without touching for 1-2 minutes.
[After frying for 2 minutes]
The crust of the rolls is slightly fried. Now, turn the flame to medium or medium-high and fry the rolls until golden brown.
The rolls have turned brown, take them out on a tray. Similarly, fry all the prepare vegetable spring rolls.
After frying up a batch of rolls, the oil will be quite hot. In that case, turn off the flame and allow the oil to cool down a bit. After a minute, fry up another batch of rolls. Each batch takes 6-7 minutes.
Veg spring rolls are ready to be served. Enjoy vegetable spring rolls with any of your favorite chutney or sauce.
वेज स्प्रिंग रोल्स, घर की शीट से बने । Veg Spring Rolls with Homemade Sheets । Vegetable Spring Roll

Tags
Categories
Vegetable Spring Roll Recipe | Vegetable Spring Roll With Homemade Wrappers
Nisha Madhulika
Rating:

5.00

out of

5